Spending a few cramped days in our hired Cornish campervan under grey sky - with too much luggage and the constant threat of rain - made us wonder what we were doing. We live in Spain with almost guarenteed sunshine and a swimming pool and yet we had chosen for our holiday to swop that for a small space and grotty weather. Why?? I admit I thought this on the first day of our trip. I don't know about you, but for the first bit of any family camping getaway we are - lets put it nicely - settling into each other. There's a bit of bickering and talking through gritted teeth ('put that phone down' and the like)... and then we relax and start to have fun.
Our antidote to the initial tensions was to hike. Get the wind in our sails. We walked from Perranporth Beach, crossing the dunes, and pass the rather uninspiring Ministry of Defense part of the coastline but beyond this we are rewarded with glorious Holywell and Crantock - just stunning. Distracted briefly by the sand surfing at Holywell we were forced on by a smattering of rain.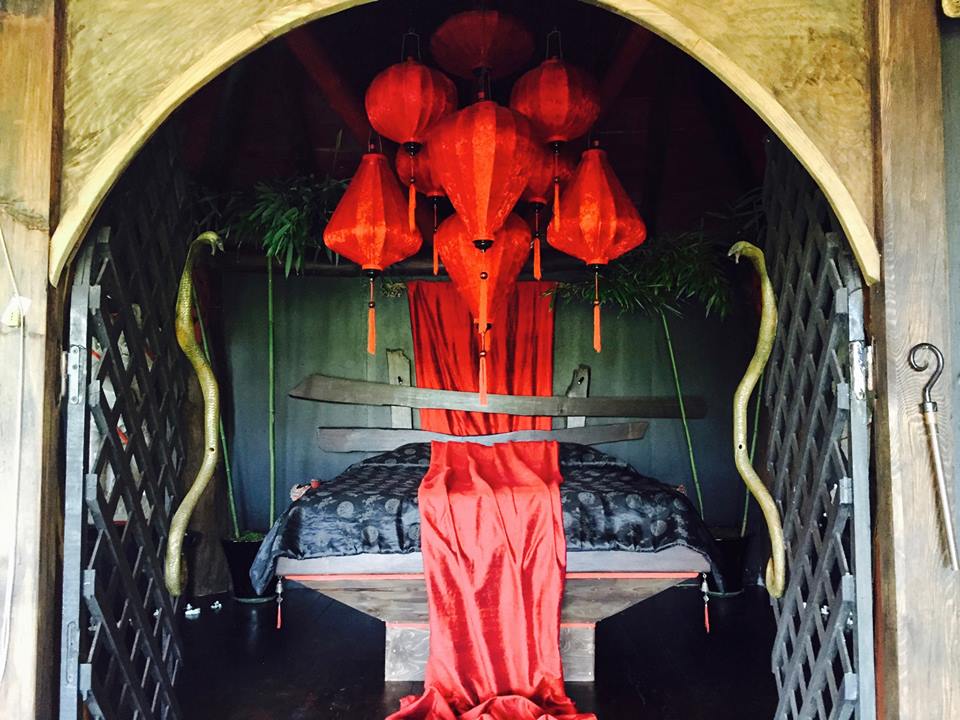 As soon as Liam approached me with his creation - The Nest of the Red Dragon - I knew I had to go there. I see amazing accommodation everyday but I knew this was unique and special at first glance. It was only a matter of time before I would be sleeping under those red lanterns.
This month I realised my dream. The anticipation was building as we tripped down the little lane and were warmly greeted. The gate was opened and the view hit us - Wow - and that feeling continued as we descended through a pretty colourful garden, overlooking a glass house on the roof of the owners cottage, glimpsed the pale turquoise of the spring water pool, and entered our exotic Asian treehouse. Home for a few nights.
Every detail has been careful thought out. For the first moments I wandered around taking it all in. I later realised that Liam had been a theatre director and he and his partner have put that creative and visual talent into lovingly building this place themselves.