QuirkyAccom.com has had its first birthday and already has 400 wonderfully interesting and unusual places to stay within its directory. And there is an endless list of places I hope to add. This is the largest listing of its kind on the internet. If you want to find accommodation offering something different look no further!
On my current favourites list of properties I'd love to get to is
Base Camp, US - The remote, raw desert in Utah would be great for hiking with Kobae the resident tortoise. When the heat gets to you, jump in the Colorado River that runs alongside.
The Hanseatic Wharf, Norway - I'm lucky on this one as I will be there later this year. If visiting Bergen in the fjordlands this hotel is in the picturesque, historic hub.
Martello Tower Sutton, Ireland - A romantic hideaway and yet a short hop into Dublin - the best of both worlds. This is the only rentable tower of its kind in Ireland.
Artful Dodger, England - I've always wanted to go on a narrowboat holiday and the Artful Dodger makes it all the more inviting.
Cabanas de Arbres, Spain - Treehouses are so cool aren't they? Magical. We have a great selection on the site. here
Pumba Water Lodge, SA - Luxury, relaxation and watching wildlife. Perched on the edge of a lake, the animals come to you. South Africa is bursting with interesting accommodation, I'll keep adding more. This is high on my list of desired destinations! Also would love to get to Bulungula Lodge that is new to us. Get entangled in village life and stay in huts looking out to sea.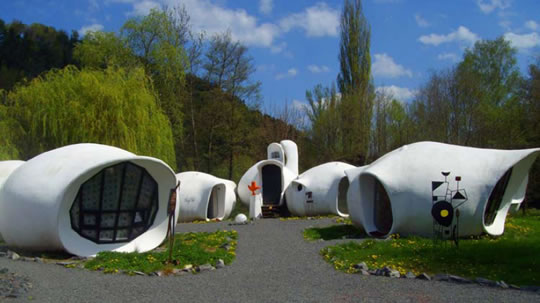 Lloyd Hotel, Netherlands - I love this type of hotel with rooms for different budgets. This place is arty and cool, a former prison at the quayside in Amsterdam.
MuseuMotel, France - To go the extra mile and create something totally unique has to be admired - and visited.
fforest, Wales - As I love Wales, sporty challenges and the look of these dome tents this glamping destination appeals to me. There's a lot of great UK glamping spots here
Danube Express train through Eastern Europe - A great way to get an overview of Poland, Bulgaria, Transalvania or Turkey, and stop at amazing cities. More 'One the Move' holidays on boats, trains, camels, safari, campervans ... here