Our drive from The Crags to Wilderness was a pleasant one taking not much more than an hour. The roadsides are brimming over with towering foliage as we headed towards the coastal town of Knysna. This is afterall, aptly named, the Garden Route. There are great unusual accommodation options in this area (see details of them below) but I had decided that for this trip I couldn't miss out on staying in a place called WILDERNESS a little further along the coast. I had picked a room for the 4 of us at Moontide Guest House, on the banks of the peaceful lagoon, which didn't disappoint. Even before we had unloaded the car the kids were out in a kayak and splashing around in the water.
The property has a range of interesting rooms around an old thatched building and a large ancient splayed tree. Our room, the Moonriver Suite, had a mezzanine level up a ladder for the children to sleep in and a lovely view out over the dipping pool and terrace to the patio overlooking the shallow lake with the green hillside behind mirrored in it. This is where a delicious breakfast was served each day. It was very cosy and homely. Treetops, and the quirky Boathouse, were other favourite rooms but each has its own charm and some a private seating area too. Tim and his team were helpful and attentive adding to the warm and relaxed environment.
Wilderness, the village, was on the otherside of the water. A small laidback place with a few shops and restaurants. The next day we passed through to pick up sunhats to protect us from the beating sun for our waterfall hike. The route offered welcome shade under a canopy of trees, quality wooden walkways and a little raft crossing where you pulled yourself across by rope - but there was a fee, collected on entry, to do it. On reaching the waterfall with its cocoa cola coloured pools we cooled off, clambered over rocks and my son even dared to jump in from the top.
Whilst at Wilderness we also took a forest walk around Big Tree - an 800 years old giant but this was brisk as the mosquitos decided to accompany us. Throughout the holiday this was the only occasion we were harrassed by intects. Not bad considering we were there in Summer and most days were around 30 degrees and evenings were perfect for sitting outside.
Wilderness also has a vast stretch of white sand with crashing waves good for surfing. I read it is one of the 'most consistent surf beaches in South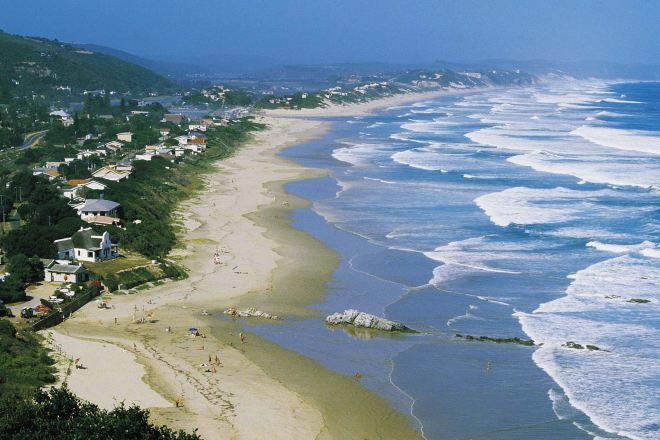 Africa'. A beautiful beach but as it had no shade, or shops or easy access into the water, we didn't hang out on it. (And we were already a little cooked by this time!) We preferred our peaceful lakeside retreat with outings out in the canoes. We did take a windswept stroll at dusk one evening which ended in a special dinner at Salinas Beach Restaurant. Great service, food, a view from our terrace table, atmosphere and price were good, especially with the exchange rate working in our favour. This meal was a highlight of our trip.
I read now (on TripAdvisor) that Serendipity Restaurant is number 1 here and it looks amazing, but unfortunately I can't report on that.
The beach, which really is what Wilderness is famed for, gives a eye-popping entrance to the place. I'm really glad we picked this place for a coastal stop. Just what we needed in the middle of 2 weeks on the move.
Alternative accommodation options in the Knysna / Wilderness / Mossel Bay area you should consider - Teniqua Treetops / Knysna Houseboat Murtle / Oyster Creek Lodge in middle of Krysna Lagoon / Peace of Eden / Reflections Eco Reserve / The Santos Express. There is no shortage of QuirkyAccom here!