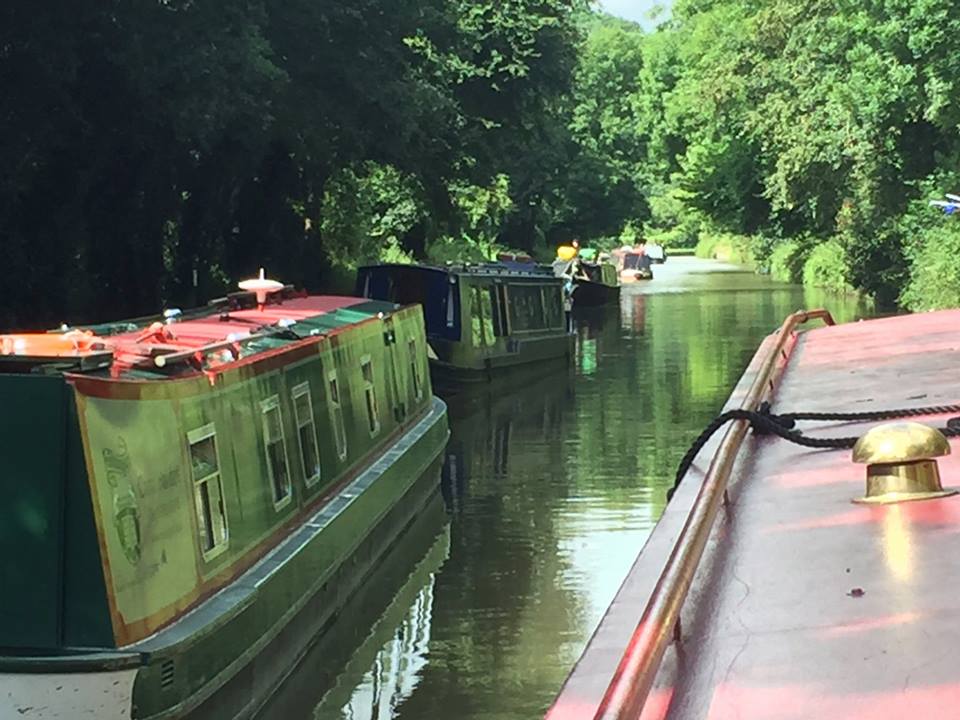 Nothing could dampen our excitement to be joining our widebeam boat for a canal adventure - not even the rain! Our pick up was just outside Bath and Peter - the owner of The Cru Houseboats - gave us a quick rundown of how to manouver the houseboat before we set of on a 4 day jaunt. There was a steep learning curve, a few panic swings from left to right but we were on our way, soggy but happy.
Being on a widebeam boat meant we could move around inside comfortably. The slim boats tended to get out of our way. Between swing bridges and locks, playing cards on the roof (once the weather cleared) and running alongside, the kids would recover inside in front of a film. The adults were glad there was no internet for a while...A couple of our crew shone at the helm so took it in turns while other eyes were kept on passing boats - a pole at the ready to push off! We were a team!
The thing that I hadn't fully realised was how beautiful travelling along a canal can be. We especially loved the part between Bath and Bradford Upon Avon where there were no locks and it was so peaceful. A palate of greens to either side, and reflected in the water along with the puffy clouds. There were many quirky boats to peer into along the way. Joggers and bikers and walkers accompanied us at times on the path, and ducks in the water. Life was slow and people were friendly and laidback ...except for the occasional owner shaking his fist at an amateur boatman bumping his home!
There were a couple of hiccups - a boat slipped its mooring and blocked the canal in front of us. We deftly used our magnet to retrieve the pin and pulled it back to place. We skipped one of the stages in our first lock and got stuck in there for a good 15 minutes - rather embarrassing! Turning and passing could be tricky...although neighbouring boats were always helpful with tips.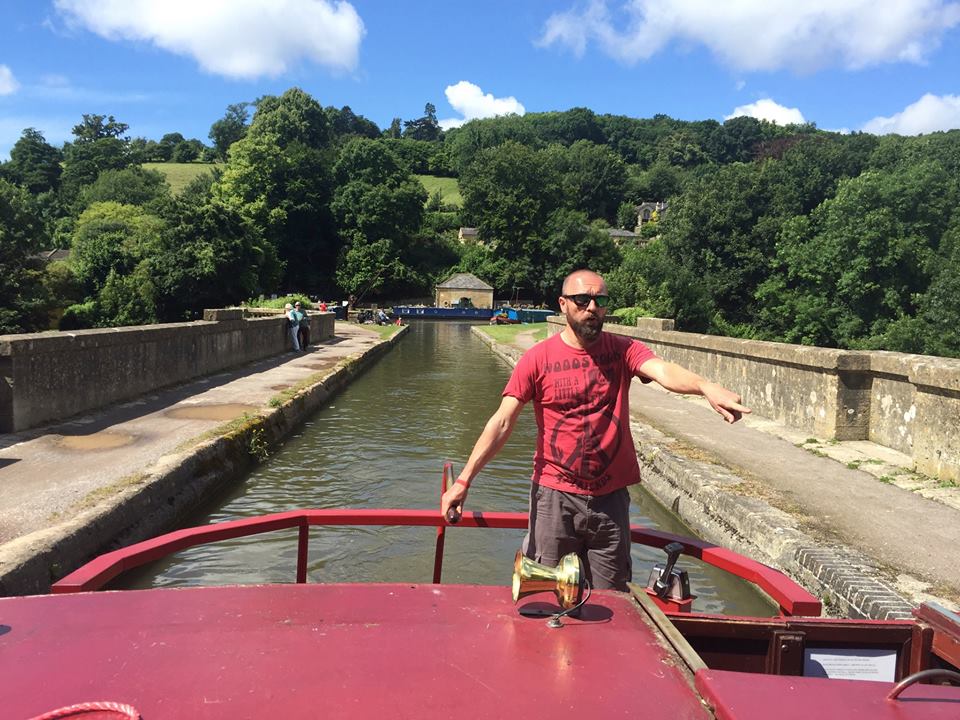 We met a couple who had chosen this meandering life for their retirement, travelling the country and hopping off now and again to visit friends. A guy who works in Bristol had an impressive boat he was doing up gradually himself. He skirts the city on its waterways, making the most of the outdoors when not at work. We greeted other holidaymakers as we slipped passed each other. It's a whole different world on the canal. We daydreamed about getting our own boat, doing it up and disengaging for a while. (We always have that sort of conversation about whatever holiday we are on!)
One day we stopped off at a narrowboat serving ice cream. But the best thing was pulling over and popping into a pub canalside for a bite to eat or a pint. Actually we should have done this more! There is a kitchen onboard and everything you need to self-cater but we loved those stops in ancient Cotswold stone pubs along the way.
Much as this was a relaxing holiday you do need to stay on the ball. The locks, the steering, the turning...you need to stay engaged with the process. Have a good look at a canal map to work out where all the locks are as heading into Bristol would have been much more hectic than going the other way. Bring wet weather gear just in case, as you can't hide away inside all the time.
It was a holiday full of memories to keep, like all adventures are. Old fashioned fun for the children and adults alike. It was good to be outdoors and with a purpose - to get from A to B and back ....slowly.
If you want to try this experience but don't want the responsibility of being captain, here are some suggestions -
Art Deco Barge - Thames
Wandering Duck - North
Hotel Boat Kailani - around Bath
Or static hire is also an option if you don't want to move at all.
Four Sisters Boatel - Edinburgh
Serenity - Warwickshire
Luxury Sport Cruiser Baboo - near London
Boats that offer independent cruising and static hire at times too -
Star Narrowboat Holidays - North - or Castlerose Boat Stay
The Cru Houseboats - around Bath
Nene Valley Boats - Northants
We have a wide range of boats stays to offer - see here
Stay on a unique narrowboats whilst in Amsterdam - Static hire for a couple, family or group My Houseboat Amsterdam