A friend of mine was involved with the charity Whizz-Kidz, and was co-ordinating groups to climb Mount Kilimanjaro in Tanzania as a fundraiser. I can't remember the details...it may have been a conversation over wine...suddenly I had committed myself to doing it. I was going to climb the highest mountain in Africa, the tallest free-standing mountain in the world, the 10th highest in the world. At a height of 5,895m, I began to understand that reaching that altitude within a few days was half the battle. But before worrying about that, I needed to get fit!
My training involved a wonderful few months of tramping the peaks and countryside of Wales, and the occasional rather unenthusiastic visit to the gym. I should have done more, frankly, but it was hard to imagine the endurance test ahead.
The rest of my spare time I put to raising money for the charity. Whizz-Kidz provides equipment, training and advice for disabled children to get them as mobile and independent as possible. With various initiatives and a lot of generous donations I managed to raise almost £5,000.
The late September departure date arrived. After 28 hours travel from Heathrow, including a truck breakdown, we arrived at our start point at the edge of the National Park. The experience of being a part of a charity fundraiser was in contrast with my way of travelling, when I had often been alone. There were 44 people in the group; diverse and interesting characters from all walks of life and of all ages. But to travel in a crowd was my first challenge. On a stroll to a nearby village I felt our presence like a herd of elephants!
The next morning, after signing into the park and a fair amount of faffing about, we begin our walk. I decide to pace myself towards the back of the group. Tackling altitude is about not over-exerting yourself, breathing through your nose without getting breathless, as well as not eating rich food, drinking plenty of water and avoiding alcohol. I was sticking to the rules, uncharacteristically, as I was determined to reach the summit.
The first day we passed through an enchanted forest with monkeys calling overhead, in a frog-like chant. Moss-coated vines, wild flowers and cobwebs drapped over tangled branches. The path was wide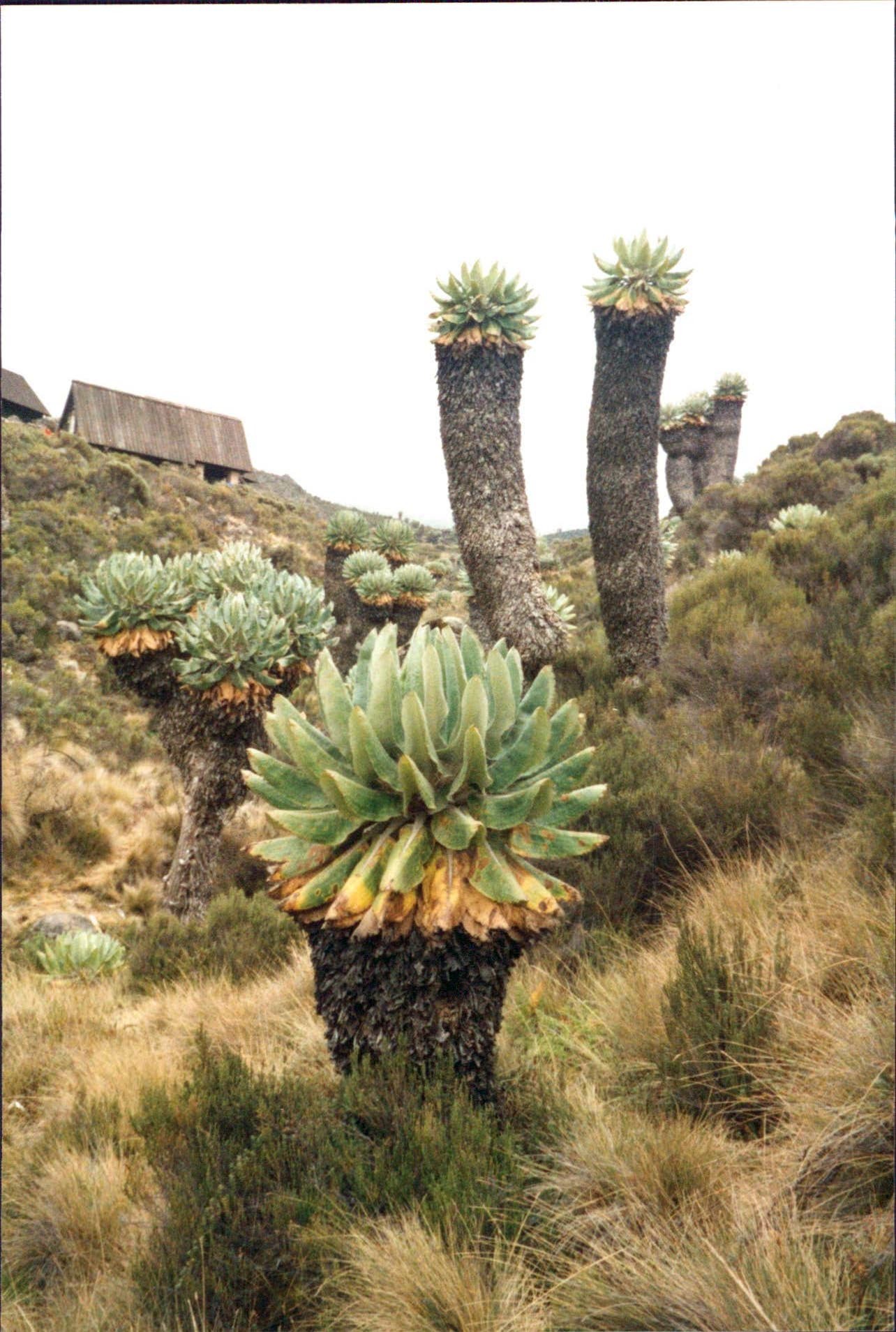 and only gently rising. There was lots of good humoured chatter along the way. We reached our camp at Mandara (2743m) about mid-afternoon. I enjoyed the meal, limiting my portion only because its harder to digest food at altitude, and went to bed after a game of cards to my hut shared with 3 others.
After breakfast we set off again, passing Maundi Crater, and taking in the beautiful views over the wooded valley and showing the odd glimpse of the daunting mountain top between clouds. A few people were already getting headaches and toilet breaks in the bushes were becoming more frequent - both early affects of the altitude. The sky was hinting at rain, but thankfully none appeared. The landscape had already changed. Rolling hills were now visible and the forest had turned to shrubland. Coloured flowers and the occasional huge triffid-like palm sprouted from the dry earth.
On reaching the stop at Horombo (3720m) we noted the temperature had dropped and there was talk of snow at the next stage. Sun hats are rapidly changed for woollen ones. Gloves, extra layers and thermals are donned. It became hard to recognise some people!
We were in a pleasant wooden cabin for 6 people. We'd drawn the short strawer with an loud snorer amongst us. And its harder to sleep soundly at this height anyway so I had a broken night. I feel slightly dehydrated too, but otherwise was full of enthusiasm for the mission ahead.
Up at 6am for breakfast and everyone piled on the layers before starting out over the frozen ground. We had fantastic views of Kilimanjaro, Mawenzi and the dawn pinks over a layer of cloud. To acclimatise we took a 4 mile walk up to the height of 4600m, past Zebra Rocks and on the saddle at the base of Mawenzi. The path was good and not steep but it felt hard going. I had to walk slowly to keep my breathing steady, my head was in a vice and I felt weak. Others have headaches too and some were feeling dizzy.
When we stopped for a break I lay down and had zero energy. After some water and an energy bar I felt slightly revived. On reaching the next rest stop we spent an hour at altitude. The return journey wasn't such a problem. I was wavering between fearing I wouldn't make it to the top, and being determined to do it. It would a terrible disappointment to drop out now.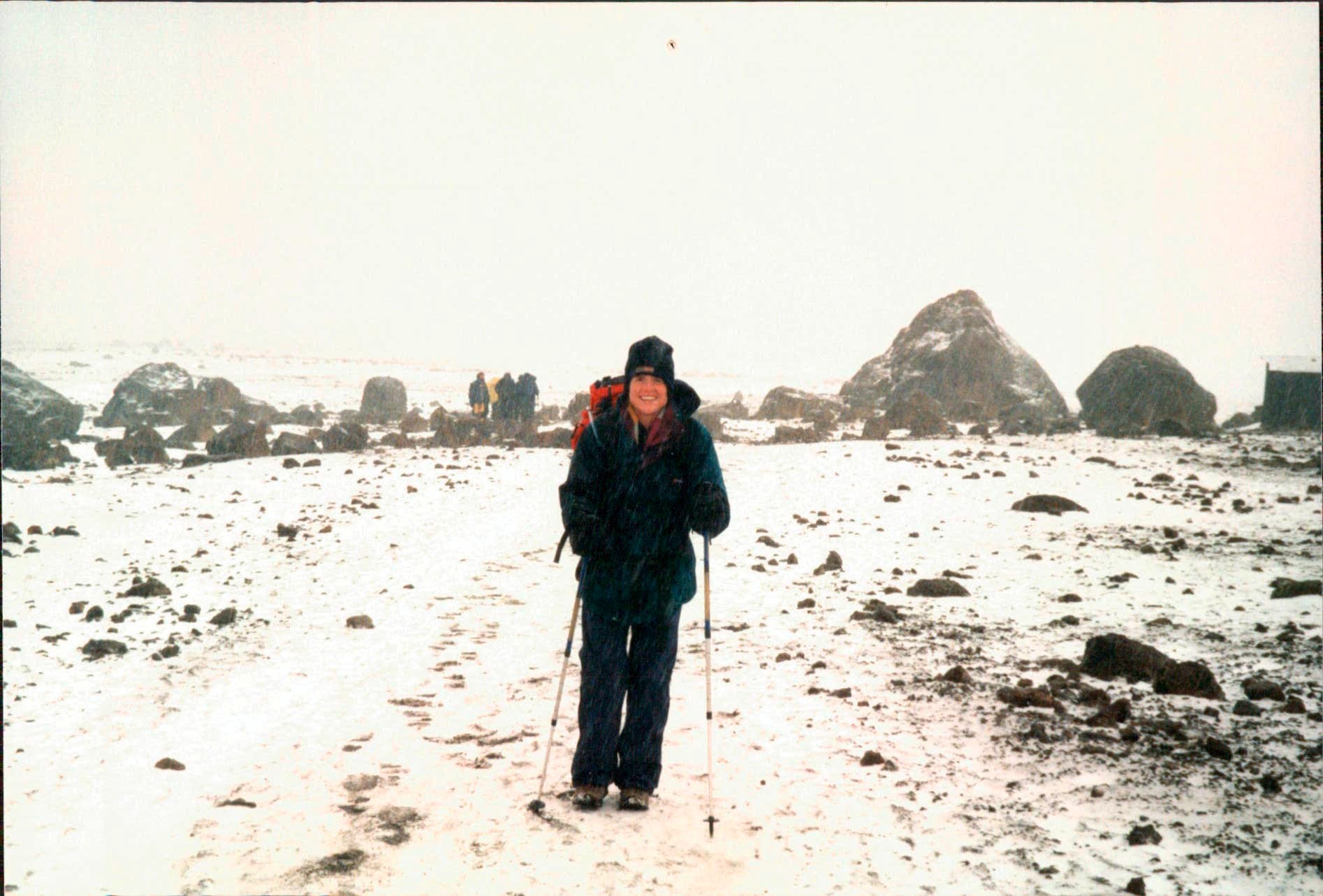 Next day we headed off for Kibo Hut at the height of around 4700m. The walk began at a fairly steep gradient. As the day progressed the shrubs disappeared and we moved into a brown desert - quite picturesque in its blandness. And then the hail came. I feel snugly wrapped up except for the stabbing of fierce hail on my face. Generally I felt reasonably good although we were all now only able to walk at a snail's pace.
As we approached Kibo people started to get ill, some stumbling and throwing up. What a strange thing we were putting ourselves through! The climb itself wasn't so hard - the altitude symptoms were the problem.
We arrived at Kibo about 3pm, and found a common room, simple dorms and smelly toilets. After a drink and a chat I went to bed. Everything felt like a struggle. My legs were stiff, my lips were blue and I had a mild headache. I wondered how much the altitude drug could have helped me.
At midnight we headed off for the final climb. I wore 4 layers on the bottom and 7 on the top. I felt really sick and the glucose drinks and porridge we forced down didn't help. We walked in single file and were grateful for the snowy ground. It was unseasonal, but helped to hold the, otherwise loose, gravel firm. A perfect full moon guided us - without it we would have needed headtorches. The views of snow-capped Mount Mawengi, its jagged rocky top lit up in the moonlight, were stunning.
All this was tainted by the fact I was struggling not to be sick, and quite soon I lost this battle. I was hauled back into the line to continue on but felt very weak. I tried to look back at Mount Mawengi at every opportunity - its dramatic image is still burnt into my memory. My breathing was heavy and laboured and I tried to keep it in a meditative rhythm. My eye lids hung heavy, but my feet somehow keep plodding forwards.
It was a steep climb now as we zig-zagged up the mountain. I couldn't imagine the top - it seemed impossible to reach. With each step I contemplated turning back, but something within me wouldn't give up. The porters kept an eye on us - adjusting clothing or urging us onwards. I felt like a baby who could do nothing but walk.
At last there was a break. We were told not to sit. I had no mind of my own so did as I was told and lent my tired body against the rocks. I still felt sick but accepted chocolate as I needed the energy. The tube to my water sack was frozen, but someone kindly shared their water with me. It seemed forever to the next rest stop and I was gutted to realise that we were at 5200m which meant we had climbed only half way to Gilman's point so far that night. Another 3 hours up!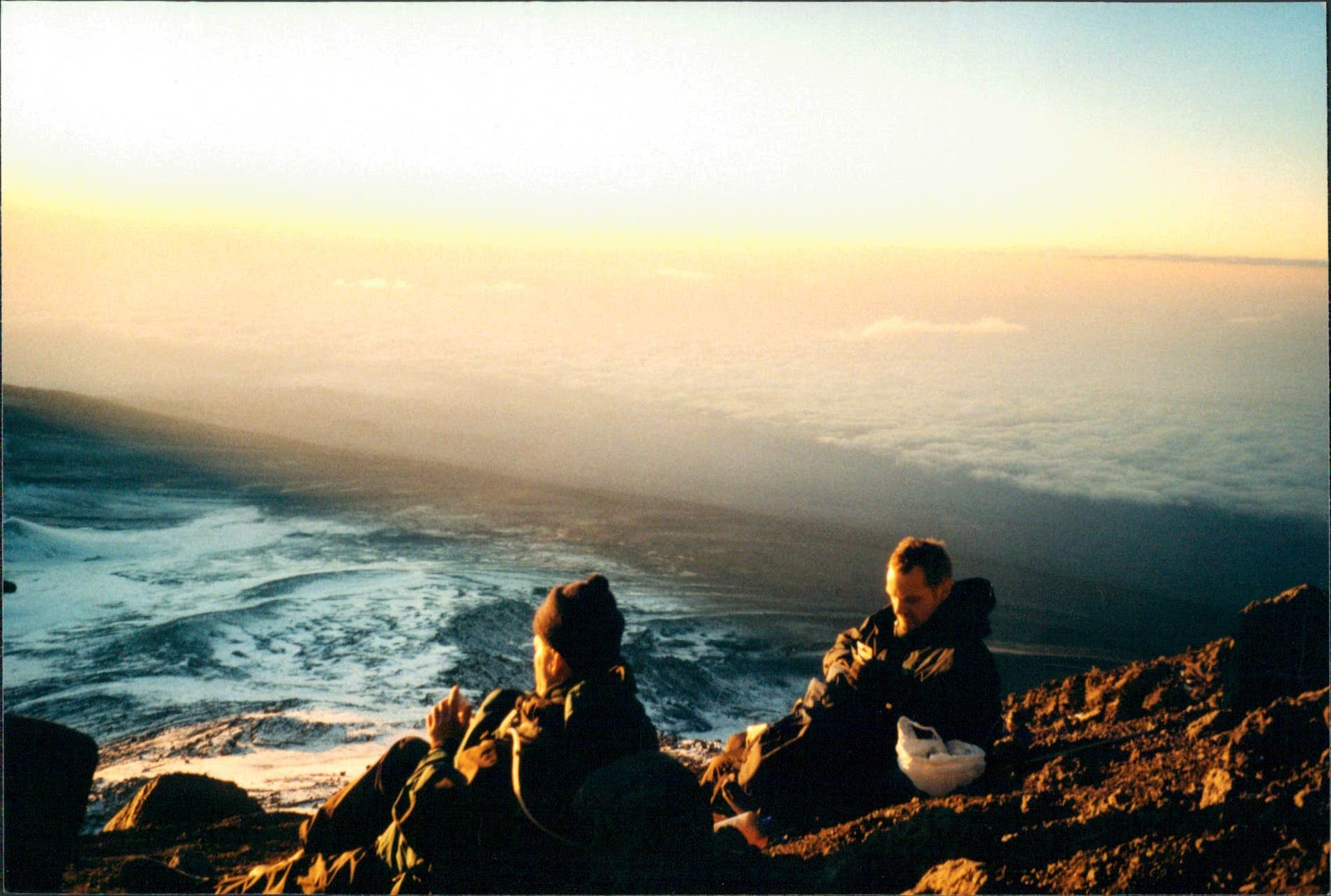 I started off again, this time at the front of the group. It was at this point that I realised I could do it. My brain had changed, my breathing regulated, my feet moved by themselves. Now I was setting a strong and stead pace, even chatting with others along the way. Adrenaline had kicked in!
The sun began to rise and Gilman's point was in sight. I glanced back at Mt Mawenzi to see the red glowing ball rising beside it. I've never seen anything so beautiful. Despite this not one of us was with it enough to take a photo, but the image will always stay with me. People around me were exhausted, but I couldn't stop. I was like a machine climbing on unhalteringly, just behind the leader.
We took a break just before the top and my strength left me. My moment had passed. I watched others stumble past me and our line broke up as each person faced their own fight to reach the summit. Finally I pulled myself into the small area of Gilmans Point at 5861m. People around me are hugging and crying. I feel flustered and forgetful and only just got a photo organised of me, with those that helped me, alongside the summit sign. I had done it!
I will brush over the fact that there is a higher point at the top, called Uhuru, a further 200m in height around the crater rim. Some went on to conquer this, falling over and swaying and vomiting as they went. My mind was already on the descent - how to get to a bed as soon as possible. We walked for 18 hours that day on very little sleep. The high of obtaining our goal was temporarily lost as fatigue took over. Those that hadn't made it, waiting for our return at Kibo, felt even worse I'm sure. I couldn't quite meet their eye, imagining their disappointment would be plain to see.
Climbing Mount Kilimanjaro is the toughest challenge I have set myself...so far.