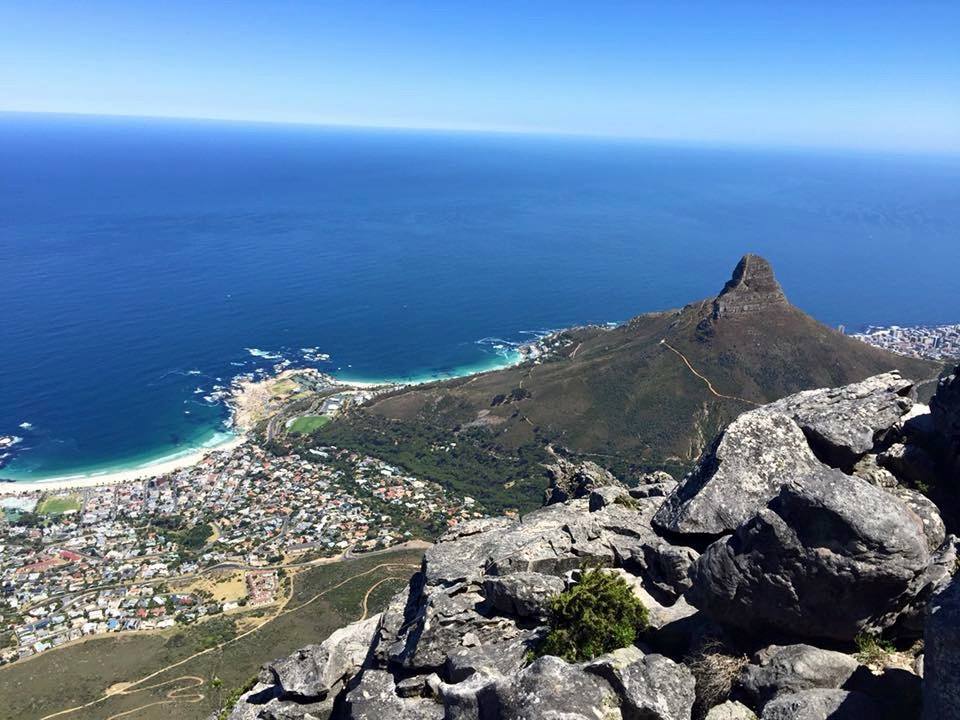 When I talk of conquering Cape Town, I'm thinking of the morning we got up early and drove to the base of Table Mountain. We sauntered past the group queuing for the cable car and took the path behind it. Not any old path, but the India Venster that is described as a challenging route; beautiful, exciting and some say even a little dangerous. We snarled in the face of danger and begin our ascent, perspiring almost immediately in the early morning heat. The route doesn't disappoint.
The only way is up of course so its not for the faint hearted and scrambling and a bit of pulling up on ropes comes into play closer to the top. When you do stop for a break the views are very rewarding, looking back over the city for the perfect birds eye view. (It makes manouvering around the city all the easier after you have seen it from up there). Camps Bay, a shimmering strip of sand to the left, the Lions Head keeping an eye on us too, and the sandstone cliffs of the 12 Apostles - the Governor of the Cape miscounted when they were named back in 1820 - there are actually 18 buttresses.
The India Venster is the most direct route to the summit, going under the cable car....but where was the cable car? What had happened to the growing group waiting to alight it? We hadn't seen a car pass overhead. As we neared the top of the mountain people began to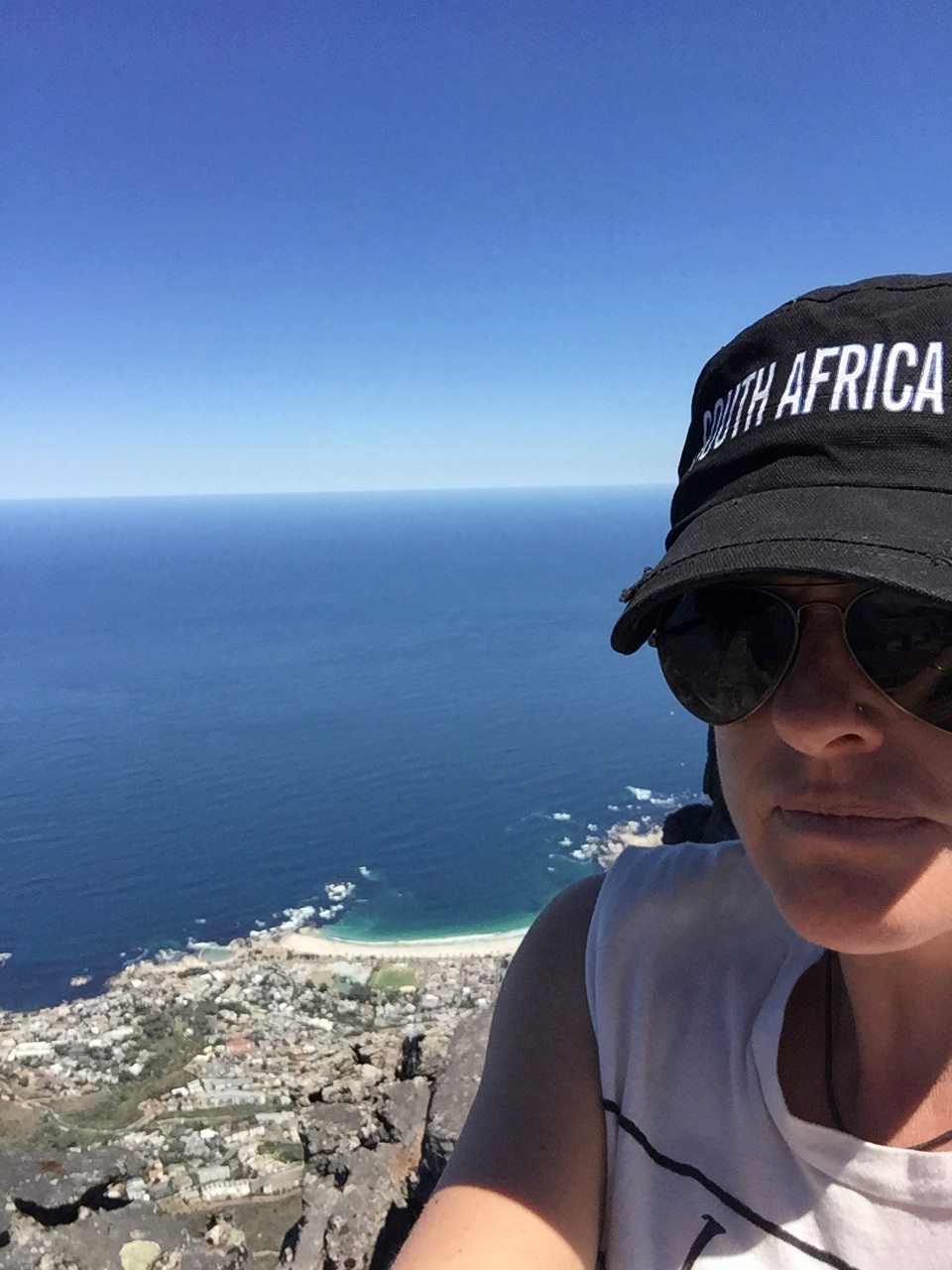 scurry past us hurredly, some even carrying their dogs - and we quickly understood that like us, most people like to take an early climb and descend via the cable car - but on this day that wasn't to be. The car was cancelled as there were winds at the top - apparently. We couldn't quite believe this as the still air hugged us in its 30 degree grip.
We could do it! Well, actually we had to. There was no option but to walk down as well. But first we needed to reach the top....
The flat top of this mountain would normally have been teaming with people, so it was a pleasure to be at the top with only a smattering of others, feeling like we owned the place. We meandered about and snapped a shot from here and from there. The shops / restaurant etc were all closed but we were lucky to have found a tap to fill our water bottles and even the kids were grateful for once with my need to always carry a packed lunch! Sweaty sandwiches went down very well.
We crossed the top to find the much trampled route - Platteklip Gorge. This zig zags through a valley and is a more monotonous route but much easier for hot, tired pre-teens than the India Venster as a route down. My son stomped ahead determined to make it down as quickly as possible. We took it in turns to distract my over-heating daughter between encouraging others to keep going to the top. Why you would want to climb in the midday sun I will never know...
Of course we made it back to the car eventually - probably more than 7 hours after we had set out - feeling full of our achievement. What a worthwhile experience! As the mountain is known for carrying its tablecloth of cloud at the top, we felt very lucky to have been there on a totally clear day.
Back at our hostel - The Backpack Cape Town - we were glad for the small pool and a bit of R&R. I had picked this place as it is a Fair Trade hostel which invests in the community - working with schools and sports projects, employing and encouraging locals. It looked pretty funky too. I had felt it wasn't close enough to the Waterfront and the hub there when looking for a taxi on New Years Eve - but actually it was around the corner from shops and restaurants and downtown action plus had a great view of the mountain so not a bad spot overall.
We did meet a volunteer member of staff from Argentina who was new there, still without friends for company, so we invited her for dinner with us that evening. I think she enjoyed chatting away in Spanish with the kids and it was quite bazaar when we realised that her friend had written about QuirkyAccom.com in a newspaper article in Argentina and had heard of me!!
Next day my daughter and I got a cab to the V & A Waterfront to wander the craft markets and take in the atmosphere. We then found a great outdoor table for lunch for the whole family at Karibu in time for the boys to turn up. Their morning had been spent doing a 7 hour drive roundtrip to Barrydale to pick up an all-important forgotten bag! But during lunch with harbour and Table Mountain views and tasty African cuisine they unwound. We found eating out generally in South Africa a great pleasure - very reasonable prices due to the exchange rate and top service and tastes.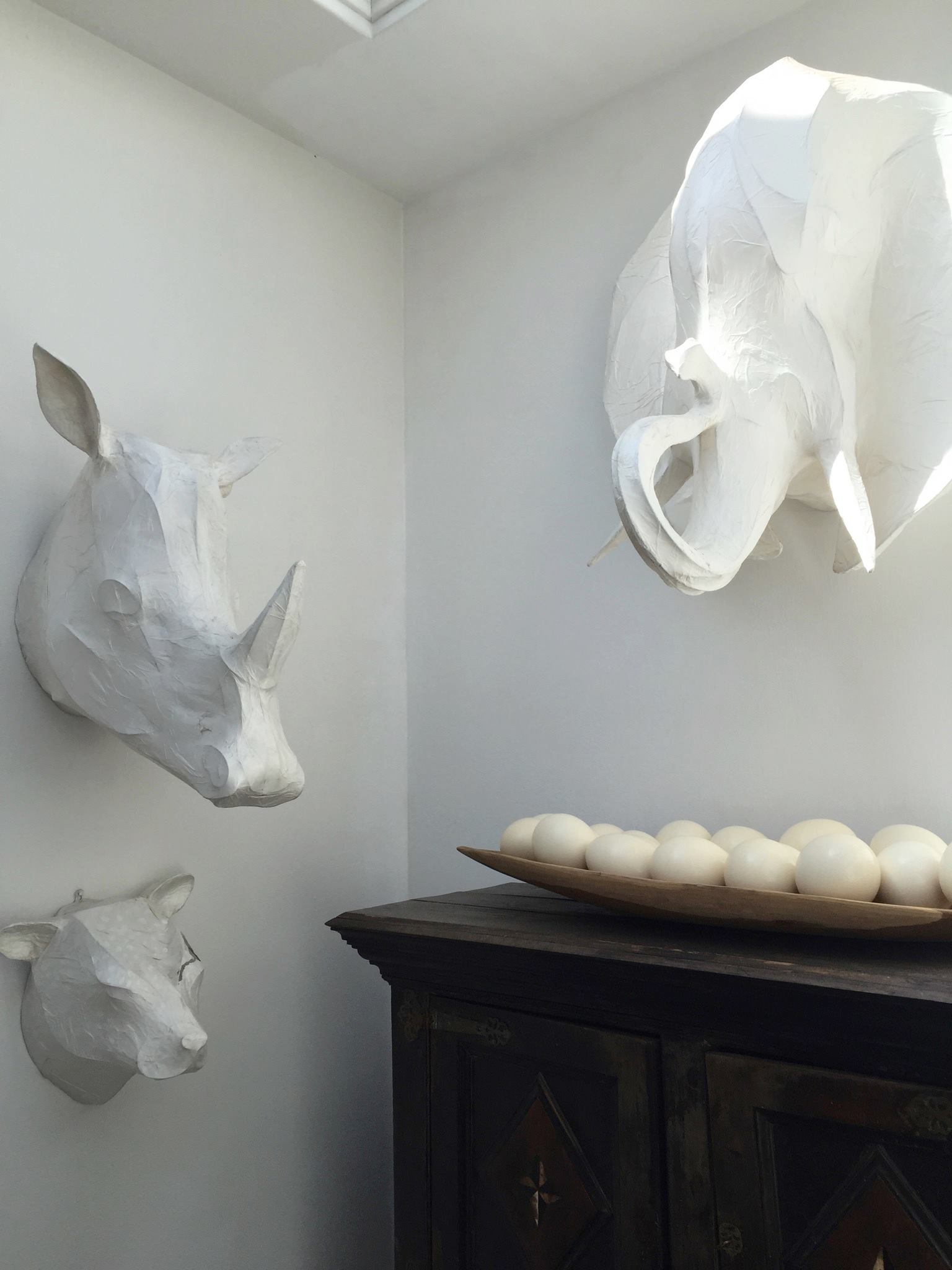 There are many outings being offered around the Waterfront area - a helicopter ride, boat cruises around the harbour or beyond to Robben Island Museum. That is a must I hear - sadly we didn't have time on this trip. Next day we were checking out ... and driving the coast road along to Hout Bay. Our last night in South Africa was to be in a lovely hotel...an unusual one with a vast lamp dominating the hall and paper animal heads on the wall - I much prefer to see these than the real thing! Big luxury rooms with robes - I even had a massage, and read/snoozed by the pool. A nice rest before we took that long journey home. Hout Bay Manor
Lunch out was at the sand pit floored casual place opposite the beach with delicious sushi - called Dunes. The beach at Hout Bay was not the pristine pale sand with bright turquoise water enjoyed at Llandudno on the route here. The water was dark, the beach a bit messy, not that inviting - but it is known for seal snorkelling at nearby Duiker Island. I have also heard that if we had had time to drive on further along the coast road there is the most stunning scenery and chance to visit Boulder Beach (for a fee) where you can hang out with penguins.
I realised with every conversation that I had that I would need to return to Cape Town another time. We needed way more time here to explore further.
Outstanding beauty, nature and wildlife, friendly faces and memorable experiences awaited us at every turn in South Africa. But there were many moments to reflect on the problems that many black South Africans face too. At Hout Bay the shanty town, with its corregated iron shacks, was a harsh reminder not far from our hotel. There is no ignoring the contrast here between the wealthy and those living in poverty. A British woman has brought hope to many through her recycled tea bag workshop - art projects created by the community to benefit the community. I'm proud to have a painting on my wall at home from TBagDesigns.co.za