Leaving Xi'an we took the bullet train and bus to join our cruise ship at Jingzhou - another big day on the move. The vessel was all lit up, ready for us, with staff lined up to greet us. What a pleasure it would be to be gliding along by boat and being able to unpack for a few days, even have a massage! With 5 nights onboard we could really settle in. There were about 300 guests to share buffet meals and rather awkward entertainment with. Luckily we had a little clan of friends now to make the journey more enjoyable.
After a trip to the old city wall at Jingzhou and a bit of productive shopping we were on our way. Of course the sky was grey and the water reflected that. My shorts remained firmly at the bottom of my bag and my coat was constantly on my back.
We slipped along the Yangtse River until we reached the Three Gorges Dam - one of the world's largest hydroelectricity project. It is all very impressive and clever I'm sure, but for me - a travel agent who used to sell the river cruises along the Yangste years ago before this amazing feat was created - I couldn't help mourning the loss of the simple waterfront village life, the 1.24 million people who lost their beloved homes, and the drowning of some beautiful scenic spots as the water level rose.
Of course it is important to produce electricity through nature, and something has to give in this process. Now highrise towns are growing up to house those displaced and there may be issues with contaminated water with human and industrial waste collects on the surface. But the arguments for assisting with growing tourism and protecting cities from flooding won the day. The cost of the dam will be recuperated in 10 years with the production of electricity. Progress can't be stopped.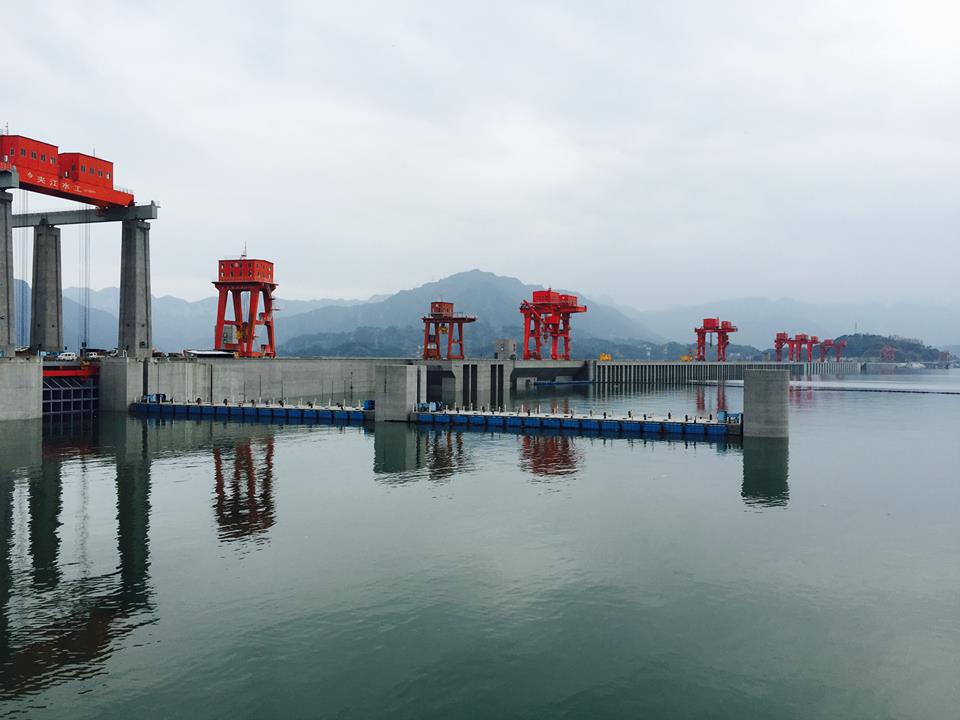 We were taken for a tour of the dam - its vast length (7575 feet) - and height (331 feet tall) not such a pretty sight maybe, but a great engineering feat. That evening we passed through the 5 stages Ship Lock which raised our boat over a few hours to pass through the dam.
An extra excursion was offered early next morning to a pretty water village a stroll along the river bank on wooden sidewalks - but as the majority of the boat was going, the cost was unnecessarily high and a farcical wedding reenactment for the tourists was put on, I decided against the outing prefering to have a lie in. On waking I found the most pleasant day of weather we had had so far on our trip - the sky was almost blue. We sat on the top of the boat enjoying the gorge views and that afternoon passed through impressive scenery out on deck with birds of prey flying overhead.
An outing on the following day took us on a smaller boat to pass through the Lesser Gorges, being overlooked on either side by towering cliffs. And our last excursion was to visit a typically Chinese 9 storey red pavilion leaning against the hillside called Shibaozhai, with more shopping opportunities - fake jade figures, low quality silk dressing gowns and the like. Bargaining hard is key.
Sunny days would have produced more smiles and better photos, but I enjoyed the cruise more than expected. Lots of R&R.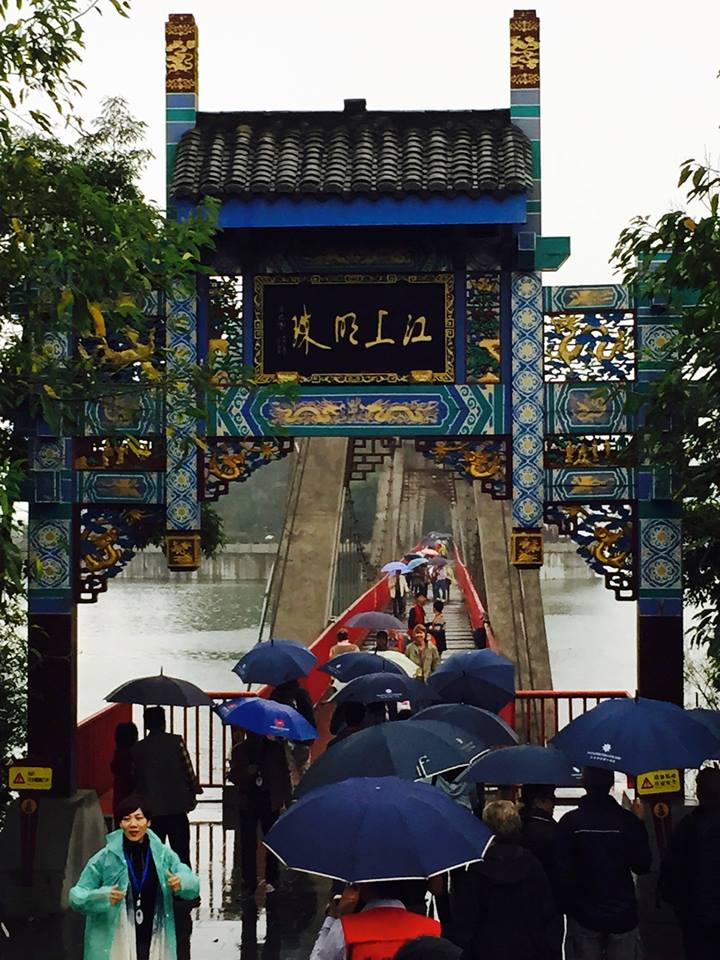 The cruise ended at Chongqing - apparently the largest city in the world. Not really an advert for a visit! But our local guide was a bazaarly cheerful fellow which made our short time here entertaining. We visited an old temple conveniently housing an expensive silk painting shop, and we crossed a square, where locals danced despite the rain, overshadowed by a replica of The Temple of Heaven called The Chongqing People's Hall.
After lunch we met a whole school full of children who surrounded us, wanting selfies and to practise a little english. It was great to finally meet people who didn't want to sell or serve me something. They were so polite and friendly and made us feel almost famous with their keen attention. A lovely experience.
For travellers wanting to spend the night here the Sunrise Ming Qing International Hostel in a traditional 300 year old building, with red lanterns and typical local decor, around a courtyard. But we were flying on to Shanghai...