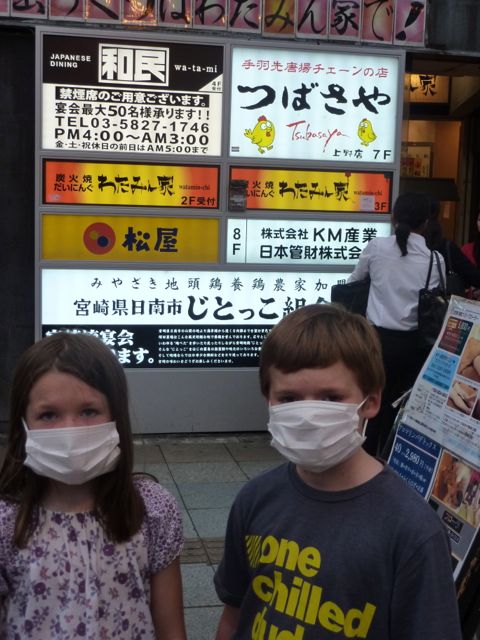 Japan has been that mystical destination - always just slightly out of my reach. To travel alone, that had seemed too daunting and financially stretching too compared to the cheaper hangouts in other parts of Asia some years ago. But now, as a family, I have my chance to visit at last.
I had expected chop sticks, sleeping on mats on the floor, face masks and slippers. But on arrival I realised that the toilets are a novelty too. They have a multitude of functions beyond the norm - flashing lights, warmed seat, strategically aimed jets and music.
Fresh from the flush I was confronted by a TV crew and camera for the show Why did you come to Japan?
Thankfully my son enjoys the limelight and took over. On leaving the airport by train I was struck by the grey sky and lush greenery, reminding me of England. On closer inspection the fields were rice paddies and the roofs are pinched in an Eastern way, but nothing struck me as so very different ... until we reached Tokyo.
We had chosen a hotel in Ueno suberb, a reasonable hop by Keisai Skyliner from Narita airport, and actually its older world charm appealed too. I can highly recommend the Ueno Tonganeya Hotel. As we are travelling with our children, aged 8 and 10, it was necessary to choose something practical, well priced and in the right location, and the family rooms here have 2 comfy beds and 2 bunks at around £100 a night. It is directly opposite the Central Gate of Ueno Station on a quiet road. Nothing quirky, but it worked.
However if you are looking to stay in the centre of the city, try CLASKA. A stylish, Nippon style artistic hotel with Western, Japanese and DIY rooms - you can create your own space. This would be closer to Haneda airport and nightlife.
Trying to ignore the jetlag from the 8 hour time difference we perked up over a delicious sushi lunch above the station. First passing the obligatory, and rather unappealing, plastic food displayed outside we were greeted by a hearty hello from the chefs and pointed out a selection of intreguing dishes. Water, green tea and miso soup appeared alongside them.
Unable to stay awake any longer we siesta-ed before venturing out to a wacky cat cafe (perhaps 20 for them to play with in a rather sad room) and a wonder around the local park and shrine. I bought life-long family peace and happiness from a passing monk at
what seemed like a reasonable fee - let's hope he can deliver! Although overcast, the weather was warm and we had dinner on a restaurant terrace (preferable to the fierce air-con inside!) before collapsing in bed. Meals for 4 outside the hot spots of the city can be from £25-50 with a couple of beers. I wasn't expecting it to be so reasonable - and the food is healthy and appetizing!
Next day we wanted to venture into the hub of the city and took the JR train into Shibuya. This return trip would cost around £2.65, but a JR city pass for the day was about £5. The metro is run on different tickets/lines - £4.70 allows you to zip about. Kids tickets are half price.
Arriving in Shibuya there was a throng of people and with them a flutter of umbrellas blew over the crossing. Overhead futuristic screens beam out their messages influencing the fashion-conscious youth below. We follow them into Shibuya 109 - a multi-storey shopping arcade housing many corners of dramatic style, not suited to those much over 25. The trendsetting assistants call out in elongated tones to the bleached, lolita-look girls in topple-over wedgey heels searching for the next out-there outfit. Even my shop-phobic husband didn't mind a look around here!
Next we took to the maze of streets. There is plenty to catch the eye at every turn. It was here we found Genki Sushi, on a side street near Loft, where a conveyor belt brings sushi to your table after ordering by touch screen. The kids were in heaven - especially as there was chicken and chips on the menu.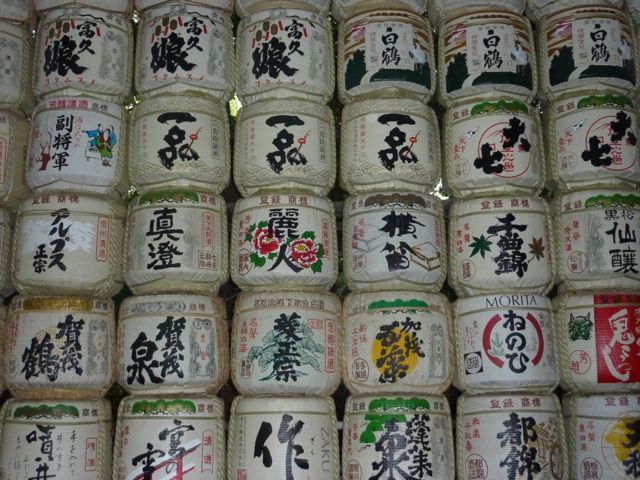 We walked on through parkland and past fountains to Harujuku where we visited Meiji-Jingu - the shrine to the respected Emperor Meiji and Empress Shiken. You see a wall of saki and french wine barrels on the way (apparently he liked a drink and was instrumental in introducing Western culture to Japan). We passed large shrine gates to reach a peaceful courtyard and structure where devotees bow and clap in ernest. The children wrote their hopes for world peace and friendship on a small plaque for the Emperor's approval.
They were getting a little weary now but on entering the cauldron of stalls and shops, on Takeshita-dori, bursting with fashion musts, costumes, and knick-knacks they were once again alive with enthusiasm to find quirky gifts for their friends.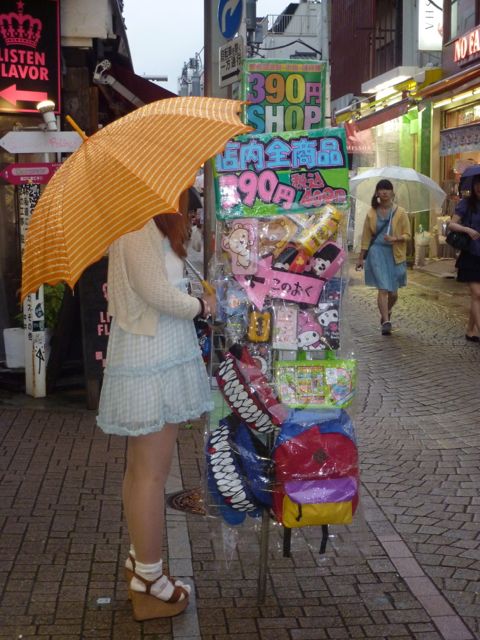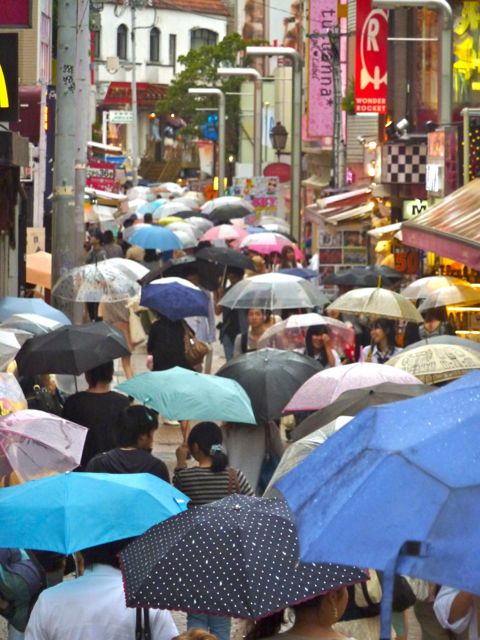 We feasted on Ramen - noodles, pork and egg in tasty soup. Then took the train home to bed.
Is it strange to say 'home' after such a brief time here? I do feel extremely relaxed. What I always thought would be overwhelming in a vast city like Tokyo seems to have come together with ease. There is signing throughout in English, that you wouldn't see in Europe, and although it is hard to find someone to communicate fully with almost everyone we have approached has gone to great lengths to help, even going out of their way to lead you to the right place. I have never been to a less threatening city. It is surprisingly accessible, despite all the differences in customs. They even understand our every attempt at their language from the guide book.
We've hardly seen a Western face, but the Japanese are so unobtrusive, quiet and respectful by nature that we feel unnoticed. It is hectic and busy, but in its own way peaceful. With children it's perfect. It has plenty to hold their fascination whilst feeling completely safe.
Day 3 and the rain is full pelt - men, caught out, in soaked suits, the homeless huddled under bridges and cyclists juggling umbrellas. When it eases up we go for a family run round Ueno park and the lily-filled lake. Maybe we'll take a boat on it if the weather improves. We join a bird-man and hold bread at arms-length under dripping trees.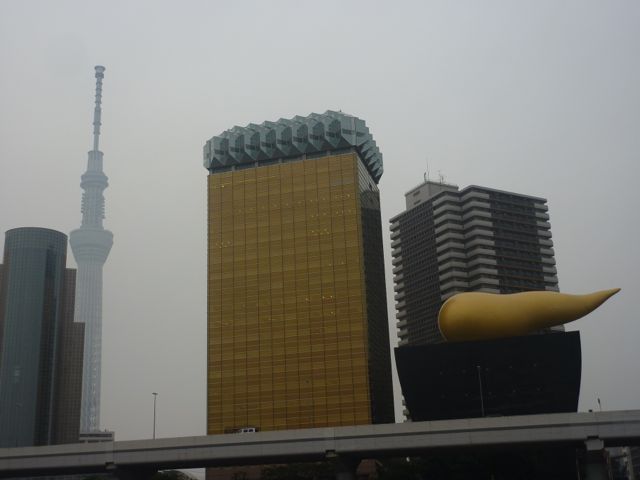 In the afternoon we take a river bus from Asakusa (there's plenty of interesting shops here selling traditional dolls, wooden sandals worn with kimonos, Edo-style toys, even the plastic food seen outside every restaurant, plus themed shopping malls). If you are a single traveller you may want to try that so Japanese experience of a capsule hotel here - Hotel New Gyominso. Men and women have separate areas.
From the water we could see the Tokyo Sky Tree - one of the highest towers in the world at 634m and the locally named 'Golden Turd'. We got a feel for the extent of the city as we passed a wall of high-rise buildings before reaching Odaiba - a man-made island. There is the perfect (childs) shelter from the rain in Sega Joypolis. It's an indoor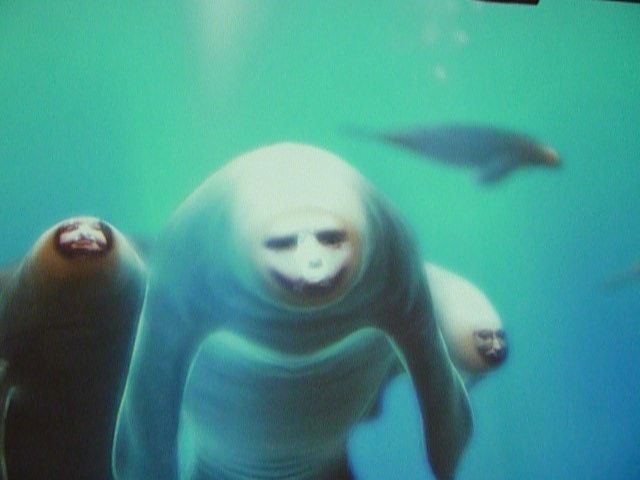 theme park with thrilling rides and unexpected extras like swimming fish with your own face superimposed on. As it was mid-week and we arrived after 5 it was uncrowded and good value. The adults were allowed in for £6.50 without rides. We were delighted to be mere spectators! For the kids we paid around £15 for unlimited rides. A bargain!
In this area you can also go to Disney, Legoland, see the Tokyo version of the Statue of Liberty and across the water the Eiffel Tower. Why travel anywhere else? It's all here. We discovered an interesting arty anglo-edged restaurant there, called Babbit, and had a tasty plate of calamari and glass of wine.
The following day it was time to move on, north to Hokkaido by plane, after a nutricious fish, rice and soup breakfast. We will save some other must-do's for our return to Tokyo at the end of this Japanese adventure. We will stay in Ueno again and visit the zoo and a museum or two within a stroll of the hotel.
Everything is done differently here, but in a good way. And you don't feel like an outsider peering in, but accepted with a friendly bow. My preconceptions of the cost of things were completely wrong. Yes, Tokyo accommodation can be expensive - but everything else seems to be cheaper than Europe.
Written in June 2013, based on exchange rate of 150 yen to the £.