New Years Eve - it can be a strange night. So many expectations that it can end up being an anti-climax. Why not go out with your friends on January the 1st instead, for half the price and no taxi queues? It just wouldn't be the same.
Sometimes it's nice to do something fairly low-key on that evening - 31st December - and avoid the hassle. And many times in my youth I had to work to ensure others enjoyed their evening, serving them food and drinks. But on occasion, its worth going out of your way to make the last day of the year UNFORGETTABLE. This is what we decided to do last year.
We were set to travel to South Africa for the Christmas holidays. It is summer then so a great time to swop seasons from the European winter for some heat! We would travel the Garden Route from Port Elizabeth and end in Cape Town. As I began planning I knew I had to be in Cape Town, at the Waterfront, for New Year's Eve itself. For once in my life I would spend that night in a prime location with fireworks bursting overhead.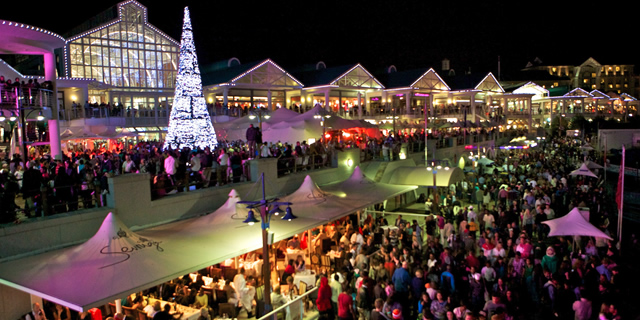 And so it came to pass. I should have booked a hotel at the Waterfront itself of course, instead of having to walk half way across the city in the middle of the night (not advisable) before picking up a cab. I should have booked a different restaurant - outside alongside the bustling crowd and atmosphere, instead of being sat under fierce air-con inside! But this is the trouble with the whole New Years Eve experience. It is hard to pull it off with perfection...
BUT despite these difficulties I loved escaping our chilly diner with the buzz of champagne on my lips and joining the happy crowd for the countdown. The barmy night was a pleasure to be out in as we danced to local bands and watched random fancydress acts shimming on through. The fireworks were spectacular. The atmosphere electric. And despite stopping a pickpocket in his tracks (this could happen in any busy place), I felt that I was in a friendly and safe place to celebrate.
Learn from our mistakes if going to the Waterfront in Cape Town as your New Years destination. Perhaps eat at Karibu Restaurant for African dining on outdoor tables with a perfect view. Stay closeby at unusual hotels like Glen Boutique Hotel & Spa, Cape Heritage Hotel or African Train Lodge. Book well ahead so you can pick what is right for you. If you like to see the action but not be 'in' it look for a room with a balcony giving you the perfect bird's eye view.
Do make sure you have a good few days in Cape Town as there is lots of Must Do things to do. See my next blog for more on that.
Many cities will offer a memorable New Years Experience. New York Times Square (arrive early) / London's Trafalgar Square (ticketed) are well known suggestions but you could be at risk of lots of hanging about waiting for the 'moment' to come and possibly frost bite too! Perhaps the Scottish liquer and the singing of Auld Lang Syne makes it worth braving Edinburgh for the traditional Hogmanay. In Reykjavik at least you can end your party warming up in hot springs!
I prefer the idea of warmer climes - Sydney in Australia - see a QA bloggers experience on that here. Rio de Janeiro locals and tourists alike do it LARGE on Copacabana Beach while dressed in white and tosing flowers into the ocean. Despite it not being Chinese New Year, Hong Kong puts on a good show at Victoria Harbour. Beachfront fireworks in Maui Hawaii would be a good family friendly option.
And if you like to carry on the party, go to Grand Bahama for the Junkanoo parade on 1 January. (image to the right).
Will 2017 be your best ever New Year's celebration??