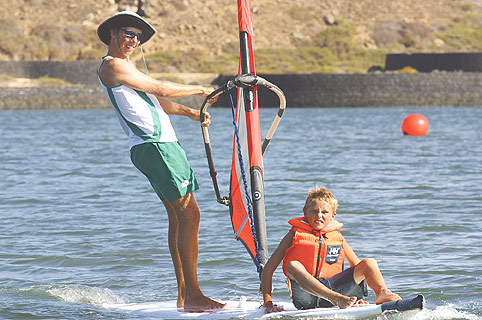 Whether you want a bit of sun round the pool while your kids are worn out with swimming lessons and squash, or you want to improve your fitness or even compete, Club La Santa in Lanzarote is a highly motivational and varied environment to holiday. The lagoon offers windsurfing and kayaking; there are olympic and leisure pools; a wellness centre; an athletics field; plus tennis, squash and badminton courts, coaching and tournaments; salsa to fitball to yoga classes, and loads of activities organised for kids and teenagers, even a talent show. But lets not get ahead of ourselves....
My day began eagerly at 8 with the warm-up and stretch to music around the pool, followed by a run. I generally went for middle distance of 3 km around the lagoon, but longer and shorter group options are possible. It was so nice to be pacing myself against fellow runners in the morning sunlight rather than my lonely machine-based run in the garage! Feeling invigorated, the family congregated back in the apartment for breakfast and to finalise plans for the days activities - of which there were many.
The apartments are serviced daily and are graded in 3 colours - red, green and yellow. The red ones have a balcony with view and TV, music and washing machine, while the green and yellow adequately provide for your needs and that's about it. My sister was in a yellow (cheaper) apartment on the ground floor while we were 2 floors up in a green one that looked much the same. The advantage apparently is that being higher you get less passing noise and our terrace readily received the sun while there's was in our shadow. It's all about the location which can be pretty important; for example try to avoid being put close to The Square if you have children to put to bed. We used the local or on-site supermarket to make the most of our self-catering facilities. Apart from meals and sleep we were out and put little importance on the accommodation itself.
If you wish to eat out there is a self-service restaurant, a varied menu at the Pool Bar and in the evening there is a sushi/steak menu in the restaurant overlooking The Square. Entertainment is put on most evenings. There is a slight 'holiday camp' feel to this, especially when The Green Team (sporty equivalent of Red Coats) take to the stage. But by now you have met a few people through your activities and its nice to gather round in the bar. The fact that the hotel is Danish-owned and full of sporty types and families means its all pretty wholesome and less knaff than its British counterparts. Besides no one wants a banging hangover in the morning - although I did hear there is a nightclub so the option is there. With such a relaxed atmosphere, the children loved a bit more freedom than can normally be offered with their many new found friends.
You will notice when you get chatting to people around the resort that for the majority it is not their first visit. That says a lot. Many are into double figures and make La Santa part of their yearly plans. We were there for the second time ourselves, at Easter, and recognised a few faces - unfortunately including the woman that thrashed me in the tennis tournament, again!
This year I chose to venture out on the 25km road bike trip to get a better view of the island. The uphills pushed me to my limit, but it was exhilarating keeping up with the 'real' bikers in their special outfits. Lanzarote, being a volcanic island, has a very different landscape with black lava fields and low-rise white cube houses scattered about. It's very striking, but barren - perhaps not the home of choice to an avid gardener. This part of the island is particularly breezy which works well for regulating temperature during sport, and means that the resort is alone on the rocky coastline away from other tourists, although walkable to the village of La Santa (3km) where there are more restaurants.
So I can only sing (loudly and often) the praises of Club La Santa. While there I felt part of a community of motivated people and that felt very good. You don't need to be a super-achiever to come here, although some are. There is fun and action for everyone, from beginners to professionals. And if you want to lounge by the pool that's perfectly acceptable too - although you may want to hold your tummy in.
View more details on Club La Santa here