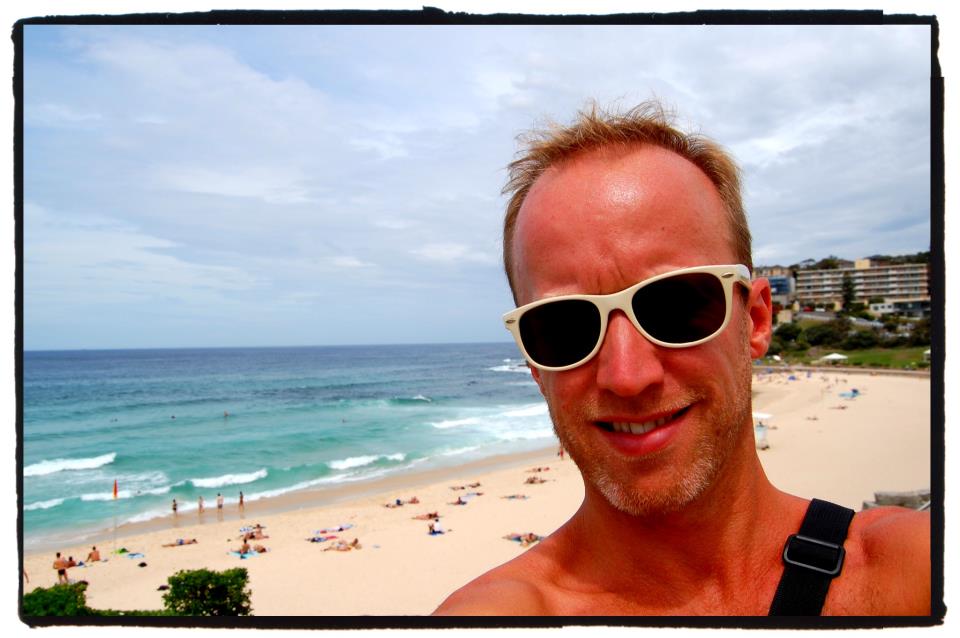 Northern Beaches v Eastern Beaches
Apparently there is a saying in Sydney, that once you move to Manly, you never leave. This has certainly been true of my friends who have lived in the Manly and Northern Beaches area for about 8 years. So, staying with them, I was able to enjoy all that the Northern beaches have to offer.
Manly itself is 7 miles and 30 minutes from Circular Quay in Sydney's main CBD (Commercial Business District) on the ferry. "7 miles from Sydney, a 1000 miles from care", is the strap line that greets you, etched into Manly Wharf when you step off the ferry and it could not be more true. A quick 5 minute walk along the Corso and you are at North Steyne, a 3 kilometre beach fronting onto the Tasman Sea. This is the main beach at Manly, great for swimming and surfing. Visit Manly Surf School along the beach at South Steyne, for all information about surf lessons.
Manly is packed full of amazing restaurants - Bluewater, Ribs and Rumps and Hugos which is at the Wharf - to name a few, as well as numerous coffee shops - Bench, Das Kaffehaus, Barefoot Cafe - to spend an hour or two reading and people watching. The famous Manly Wharf Hotel is a must. Stop here when you get off the ferry and enjoy a beer overlooking the harbour. This is where the trendy residents go for a drink.
As well as eating and drinking, Manly is well suited for walking. Set out along the beach, round Cabbage Tree Bay to the beautiful and quieter Shelley Beach. Depending on the time of day, either sit and watch the sunset over Manly, or continue your hike round North Head with its spectacular views over to South Head and the city. At certain points you can see the Centre Point Tower and the top of the Harbour Bridge. North Head has National Park status and apart from the amazing views, you will be walking through and experiencing some of nature at its best. 

Alternatively, from the Wharf, do the famous Manly to Spit walk. This might take you the best part of an afternoon, but you will be well rewarded with views of the harbour and some amazing quiet beaches along the way. I decided to hire a bike and cycle it instead. You can't follow the harbour path for all of this as bicycles are prohibited along part of the route, but instead you get to see some of the magnificent houses in Balgowlah Heights and Seaforth. If on a bike you need to get off and walk a bit to visit some of the quieter beaches, such as Forty Baskets Beach.
North from Manly there is Freshwater Beach, then Curl Curl. It is possible to walk from Manly up to Curl Curl. About an hours drive from Manly, further north there is Whale Beach and then Palm Beach. This is where the rich and famous live with huge houses overlooking the beaches. Spot how many of the houses have
glass lifts on the outside! Try and see Elle MacPherson, who is rumoured to live here. Palm Beach is famous for being the beach set for the TV programme Home and Away, and there is the opportunity to have your photo taken at the Summer Bay Surf club. You might even bump into Alf Stewart. Make sure you also take a walk up to Barrenjoey Head and take in the views from the lighthouse.
In comparison for the Eastern beaches, a quick hop on the train from Circular Quay will get you to Bondi Junction. Then a quick bus journey will get you to Bondi. The cynics amongst us might say that it's just another surf beach, but there is definitely a different vibe going on at Bondi. There is more of a backpacker crowd. You can't deny it, it is a fab beach with lots of atmosphere. On Christmas Day people bring their whole lounge to the beach, sofas and all, and settle in for the day. Bondi has probably got more of its share of quirky boutique shops than Manly but also has its fair share of coffee shops and restaurants. Go to Ravesi for nice eats and Gertrude and Alice for good coffee, which doubles as a cool secondhand book shop. Make sure you take a look at the famous Bondi Icebergs, for either a nice meal, or swim in the great outdoor pool.
Take an afternoon out to do the Bondi to Coogee walk. Some of the locals seemed shocked when I said I had walked there and back in afternoon, but it is easy and I even had time to stop and have a swim in the outdoor rock pool at Bronte Bay. From Bondi you will pass through Tamarama Bay, Bronte, and Gordon, before arriving at Coogee. Have a quick refuel at the Coogee Bay Hotel before commencing the walk back.
In the opposite direction a 15 minute bus journey takes you to Watsons Bay and South Head. Similarly like North Head in Manly, you can do several walks here with breathtaking views over to Manly, and to the city. Watsons Bay is also famous for the restaurant Doyles, so stop here for some fish and chips, after your walk back from South Head and Hornby lighthouse.
The advantage of Bondi and the eastern suburbs is of course that it is quicker to get to the trendy areas of Paddington and Darlinghurst. Oxford Street runs through both suburbs all the way to the city and along here you can stop to take in the cafe culture and the fabulous bohemian boutique shops. Stop by on a Saturday and visits the Paddington Markets which boasts over 200 stalls of gifts and food and is open every Saturday come rain or shine.
I find it difficult, as a visitor, to have a favourite side to Sydney, but certainly on speaking to those that live there, they have their preferences and like to stick to them. The best advise as a tourist, is to go and enjoy all that the northern beaches and the eastern suburbs have to offer.
----------
For alternative and interesting accommodation, why not check out the historic Q Station near Manly. 
Taronga Zoo has the opportunity to camp in one of the best locations of Sydney. Check out Roar and Snore. 
Cockatoo Island in the harbour also boasts several different kinds of accommodation, glamping tents and apartments - bookable here.
Photos: (top) - Doug doing the gruelling task of visiting Sydney's beaches on our behalf / (left) Shelley Beach at sunset / (right) Palm Beach to the left of the peninsula / (left) Bronte beach / (right) Snore and Roar at Taronga Zoo