Encouraged by early hours arrival and departure times, I took the Yotel test. Could a cabin style room provide the comfort needed to turn unpleasant flight times into a managable experience? I say Yes.
Yotel founders took a bit of the Japanese capsule culture and a first class reclined airline experience and created their first airport hotel in 2007. Now with one at London Heathrow, Amersterdam Schiphol, Gatwick Airport and, moving away from the theme slightly, one in New York City where space is money.
Rooms, either singles or doubles, are obviously compact but you are not paying for a whole day there (unless you choose to). It is possible to book in for just the hours you need and the cost reflects that. There is high speed internet, a fold out table and chair, a cabin style bed with TV, internet access and good lighting plus a narrow but efficient bathroom.
My Yotel cocoon couldn't have given me more pleasure. It was totally dark, I couldn't hear other guests, and I took a stroll there from my flight. I drifted off to sleep with a large grin on my face. Having passed those passengers wedged on benches, covered in their own coats, I couldn't have felt more priviledged. This joy is available from £32.
In my case, I could have stayed with family or friends nearby, but I'm not sure they would have welcomed me in the early hours, and the cost of the taxis would have been the same as my little room. Plus I had to get up early and jump on a train which was literally on my doorstep at Gatwick Yotel. The hotels are situated in the public (landside) area near international arrivals. (Transferring (airside) passengers would need a valid entry into the UK.)
If faced with a grim few hours between travel options I strongly recommend you visit a Yotel. Link to their website and online booking through their listing on QuirkyAccom.com HERE.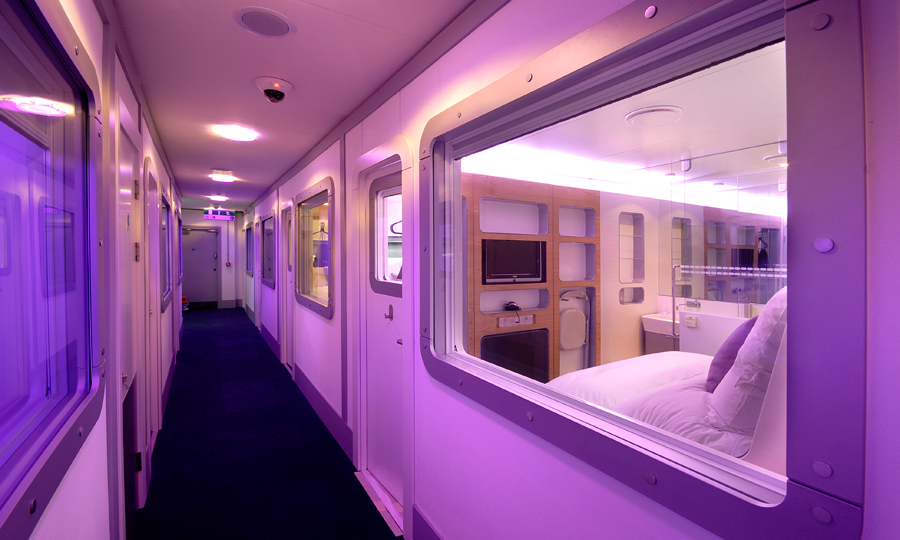 Premium Cabin corridor.