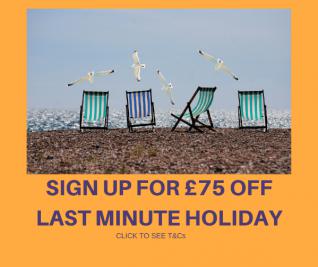 THIS COMPETITION IS NOW CLOSED! LOOK OUT FOR AN EMAIL FROM US TO SEE IF YOU ARE THE WINNER.
This year seems to be different in terms of holiday bookings. I'm not sure if its the Brexit uncertainty but people have been more hesitant than usual this year which means some of you may still not have arranged one. And we definately all need a holiday!
We want to help you take the leap by offered a £75 voucher off a holiday featured on our Last Minute Availability page. All properties featured on this page have availability within the next 3 weeks (and possibly beyond). And this year because people are waiting there are some amazing places on here that normally would be fully booked up by now. All you have to do is sign up below and should you be the WINNER to be picked on 27th July then you can put your prize voucher towards any available holiday on this page with a value of £200 or more. You will notice that some places feature a Special Offer badge too and using your voucher does not interfere with these. See the full terms and conditions below.
TERMS & CONDITIONS
Sign up for the chance to win a £75 QuirkyAccom voucher to be used against a holiday on the Last Minute Availability page on QuirkyAccom.com.
Minimum total holiday value £200, from which £75 can be reduced.
Winner must be over 18 / 1 entry accepted per person.
The prize is not transferable, but can be used in conjunction with another offer should the chosen property have one.
Booking is made direct with the chosen property. Use the yellow / purple links on each page to get in touch. QuirkyAccom.com is not involved in the booking process. The booking terms are dependent on those made by each individual property.
The winner must advise QuirkyAccom of the property they are wanting to book so that we can make arrangements for the £75 reduction with them.
The prize is not transferable for cash.
The winner will be drawn on Saturday 27 July. Please check your inbox and Spam in case it is you!
The £75 voucher must be claimed by Monday 29 July midday. If we haven't heard from you by then we will need to select another winner.
By entering the competition you signify your agreement with these termsandconditions.