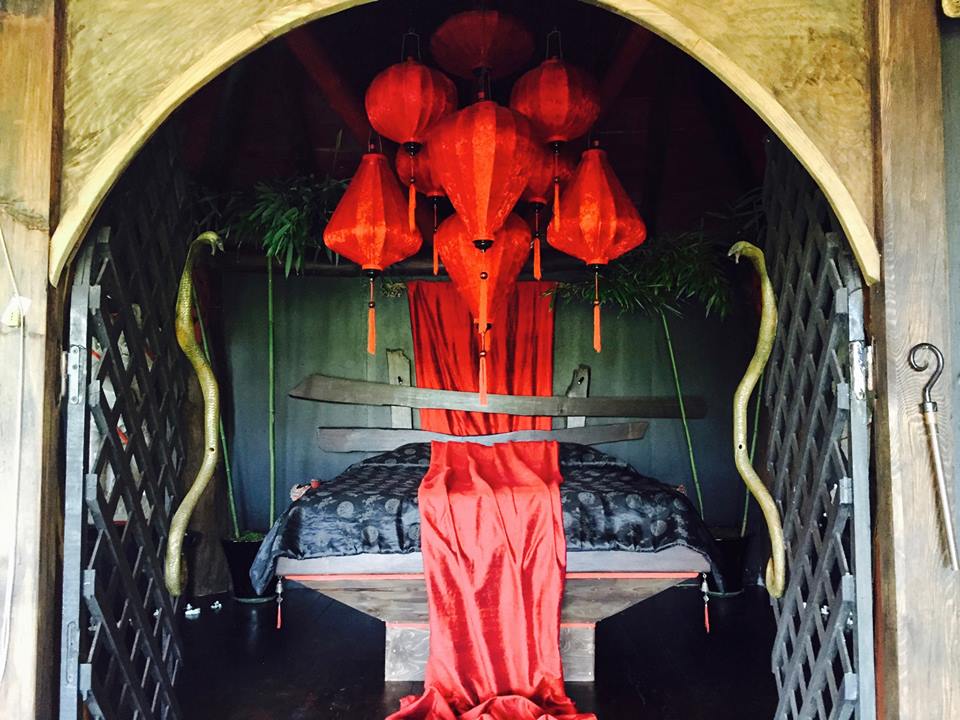 As soon as Liam approached me with his creation - The Nest of the Red Dragon - I knew I had to go there. I see amazing accommodation everyday but I knew this was unique and special at first glance. It was only a matter of time before I would be sleeping under those red lanterns.
This month I realised my dream. The anticipation was building as we tripped down the little lane and were warmly greeted. The gate was opened and the view hit us - Wow - and that feeling continued as we descended through a pretty colourful garden, overlooking a glass house on the roof of the owners cottage, glimpsed the pale turquoise of the spring water pool, and entered our exotic Asian treehouse. Home for a few nights.
Every detail has been careful thought out. For the first moments I wandered around taking it all in. I later realised that Liam had been a theatre director and he and his partner have put that creative and visual talent into lovingly building this place themselves.
The open view over the green valley is very distracting but the covered outdoor space with seats piled with cushions at floor level is the perfect place to enjoy it. Then the bedroom - nothing could be more romantic - black silk covers and with red silk tumbling across it to the floor, large red lanterns overhead, carvings and sculptures, lattice doors through which fresh air embraces you and you can glimpse the view and bamboo leaves framing it all.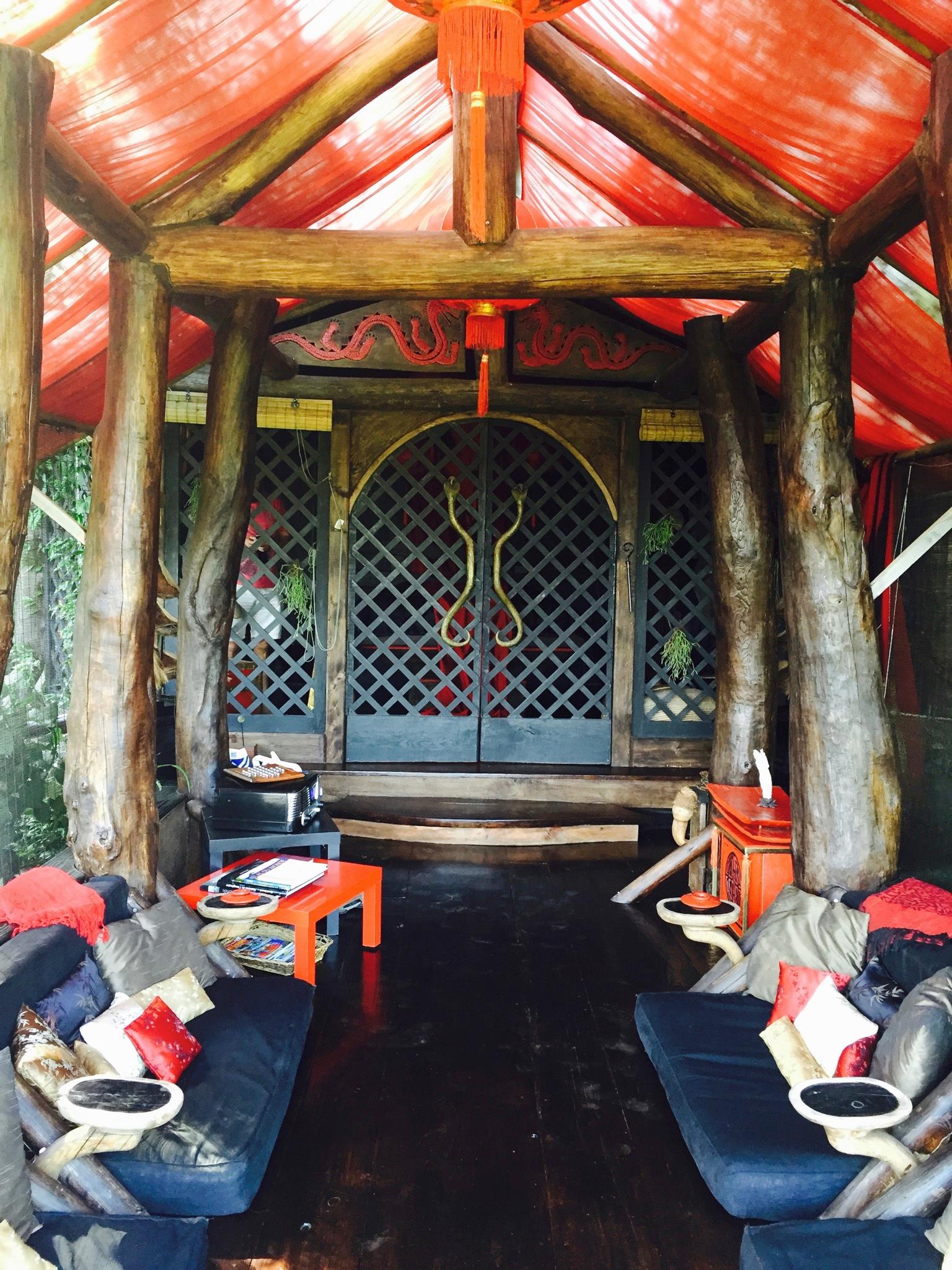 Off the bedroom is the compact tibetan kitchen - a fridge box, hob, sink and utensils if you wish to cater for yourself. Or Liam can produce the most amazing Asian cuisine which should be tried at least once. Breakfast is included.
Then you take a little suspended bridge, past the hammock, along to the bathroom. Again like nothing you have seen before. You stand on large flat stones under an elephants trunk shower and look out of the large glass window on that view. You feel like you are outdoors while actually being under cover and totally private. The flushing toilet next door also has that mesmerizing view.
On top of all this, there are a selection of CDs to create the mood, flowers scattered around, a light shines directly on a lily in the loo - every thing is put together for the sake of beauty. Romance will surely follow.
If you can drag yourself away from this amazing place, there is much to do in the area. We hiked to a waterfall, biked a trail, came across a picture perfect village at Olargues as well as swimming pools and beautiful scenery at Les Gorges de H'erik. Google about the Haut-Languedoc Nature Park, but Liam will also help with suggestions. You can also reach the coast at Narbonne, take a canal boat trip or visit medieval Carcassonne within about 50k - but in the end we liked the nature immediately around us more.
It is possible to fly into Carcassonne, Beziers, Montpellier or Toulouse from London airports. Car hire is recommended as transfers would cost more and you would miss the opportunity to explore without one. I recommend 3 / 4 or 7 night stay. We were sad to leave after 4.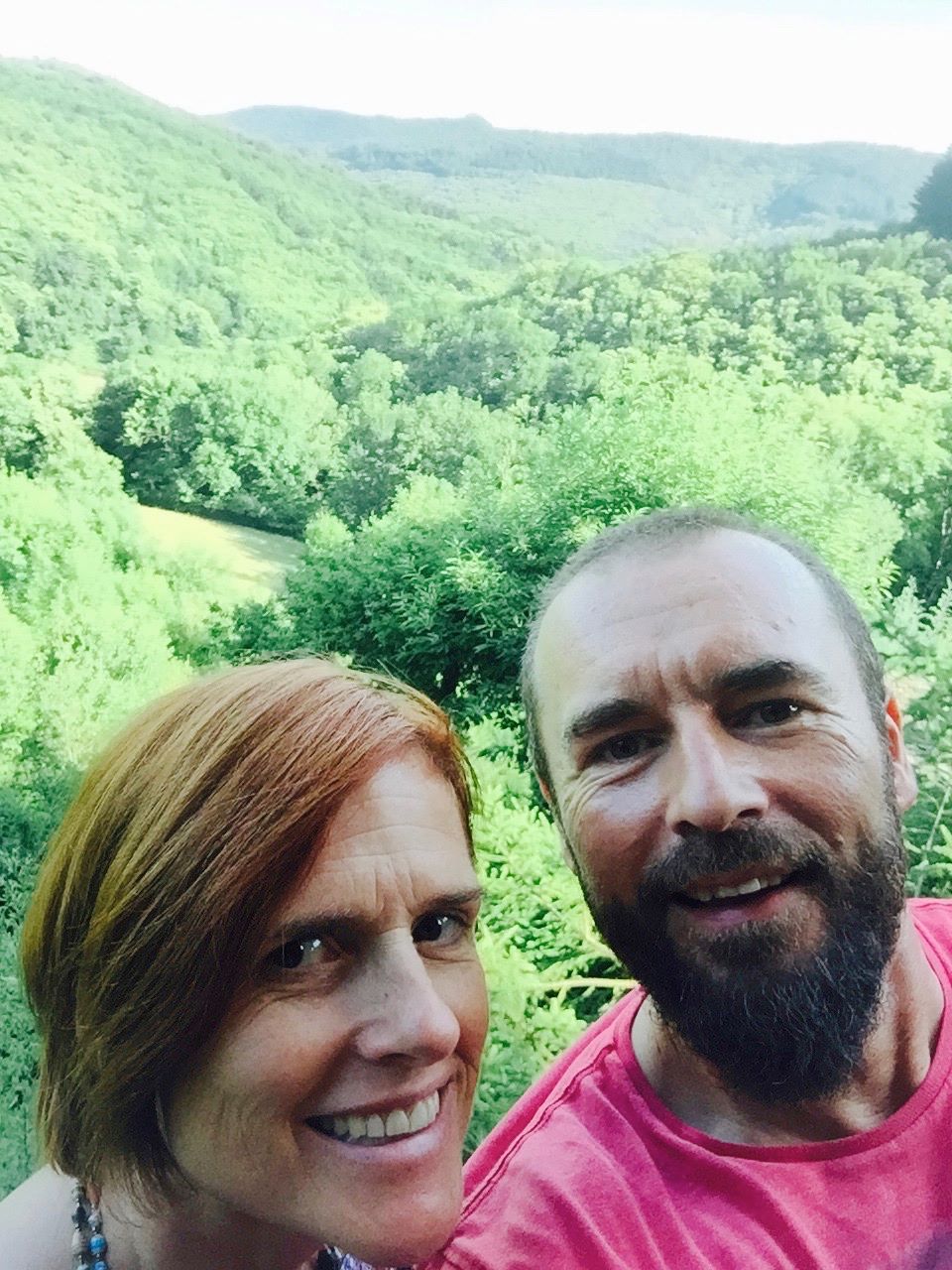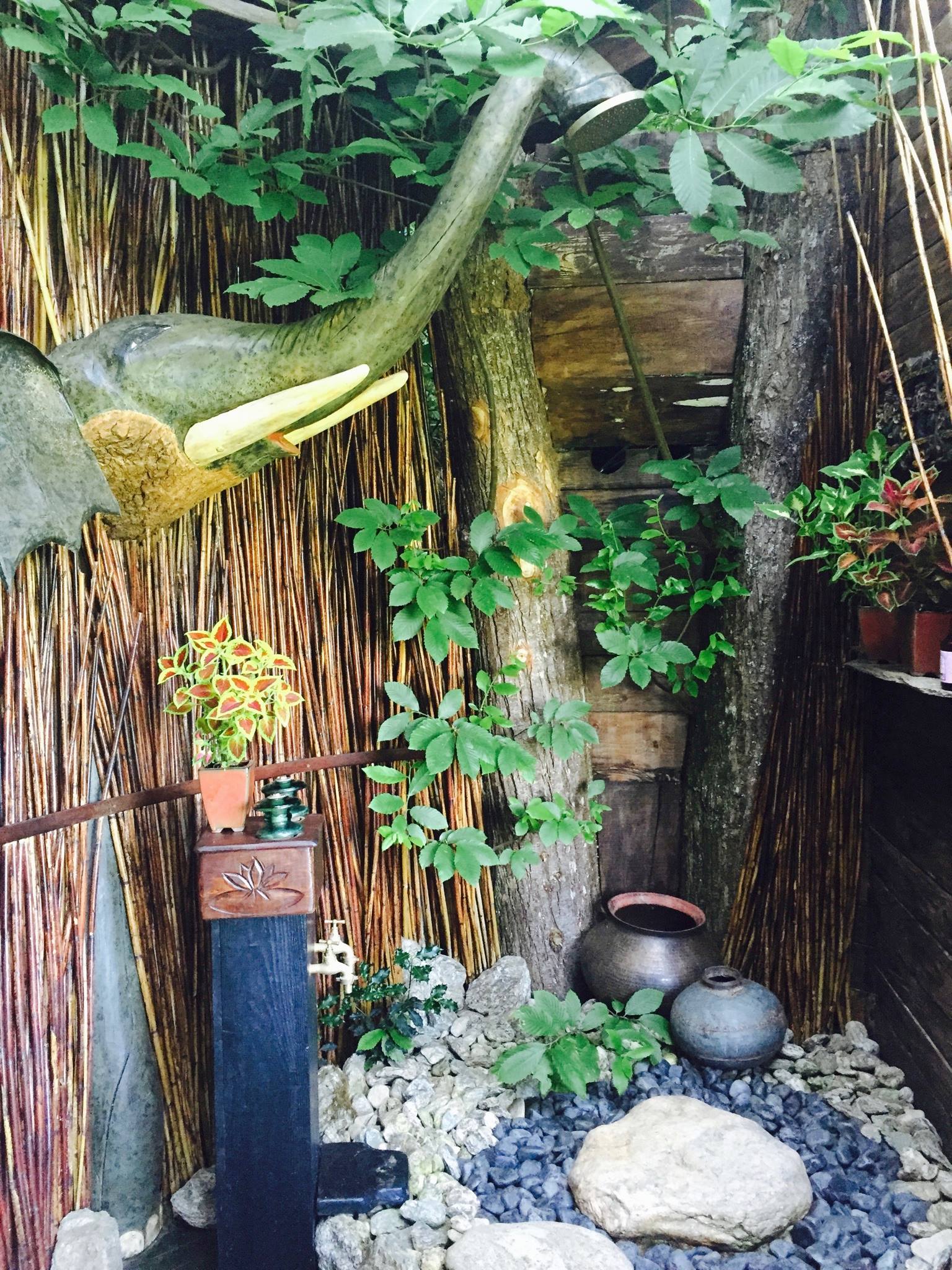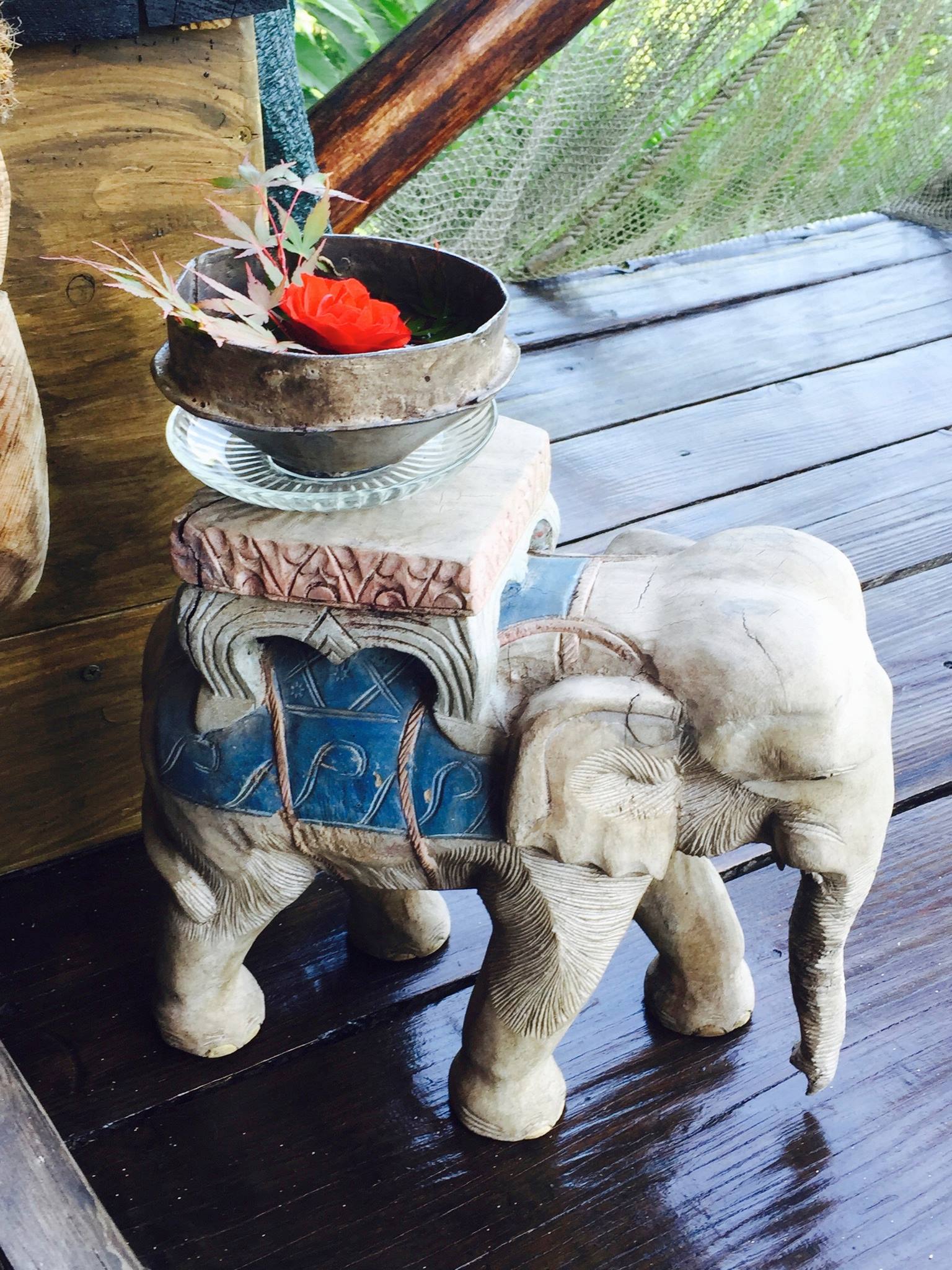 If you want to do a 2 centre holiday in this area have a look at Belrepayre Airstream & Retro Trailer Park. It is the other side of Carcassonne in the mid-Pyrenees. We have also stayed here a few years ago and loved it. Its a different experience, more social with the Apollo Lounge, where the owner spins some retro tunes in the evenings.