Hi, It's Louise here, Content Editor at QuirkyAccom. See the first stage of my Glamping adventures in the previous blog - here is Part 2.
My family and I continued our glamping adventures with a trip from Cornwall into Devon. Down gorgeous country lanes, through beautiful villages we travelled until we turned into the entrance for Coastal Cabins.
My children loved the wheelbarrows that were awaiting our luggage and tried to push them themselves….that is until they got too heavy for them to carry and they decided it was more fun to have a ride themselves!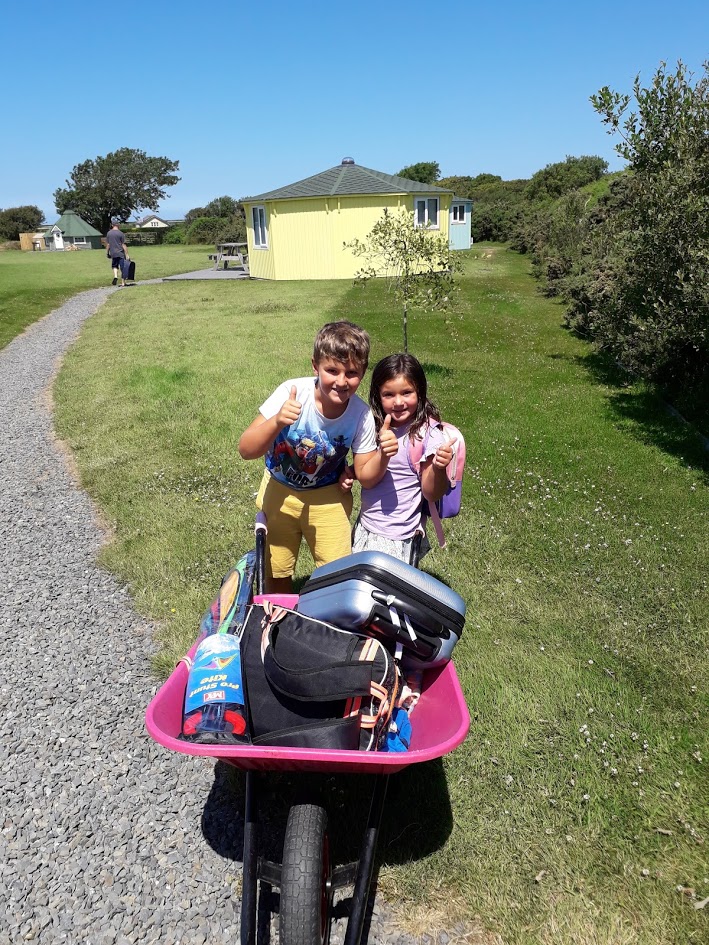 Our family cabin was located right next to the lake, a simply perfect place. With a terrace area outside and a picnic table, I was already imagining enjoying dining al fresco. Opening the door, the sunlight shone through the ceiling window right onto the picture behind what was to be our very comfortable bed. It was almost as if it was welcoming us to our little piece of tranquility.
The cabins themselves are perfectly designed with all you could need for a restful rural retreat. My children told me the bunk beds were really comfortable and the en-suite bathroom was a good size with lots of hot water in the shower. The kitchenette was perfect and we enjoyed the arrival tasty treat that they left for us alongside a cup of tea!
One morning we took a stroll around the lake trying to spot some fish but to no avail, I am sure they probably heard my children coming! The site itself was really peaceful and as well as having a large central grassy area it also benefited from a tennis court, a BBQ hut and its NEW hot tub spa area! Sadly we didn't have time to try out the hot tub - as this is a place for adults only and my two would never have forgiven us if we went in without them! I am thinking we may need to return another time without the little ones!
The owner was very welcoming and told us of lots of great places to visit and pubs to try. We took her up on her recommendation to visit Clovelly and enjoyed a lovely morning out exploring this historic hilly seaside village, which we topped off with a delicious Devonshire Cream Tea after saying hello to the friendly donkeys!

I would definitely recommend this site if you are looking for peace and tranquility and wish to escape everyday life. Bring a good book, slow down and RELAX!
NOTE - Even the Couple Cabins have been upgraded this year to allow a small child on a sofabed - so these family friendly cabins are a great option for school holidays. And outside of these times then its perfect for couples - who can enjoy the extra space of a sofa and the new hot tub / spa area too! Take a look at all of the cabins available and make your choice - you won't regret it!
Book a break in one of QuirkyAccom's many huts & cabins now!