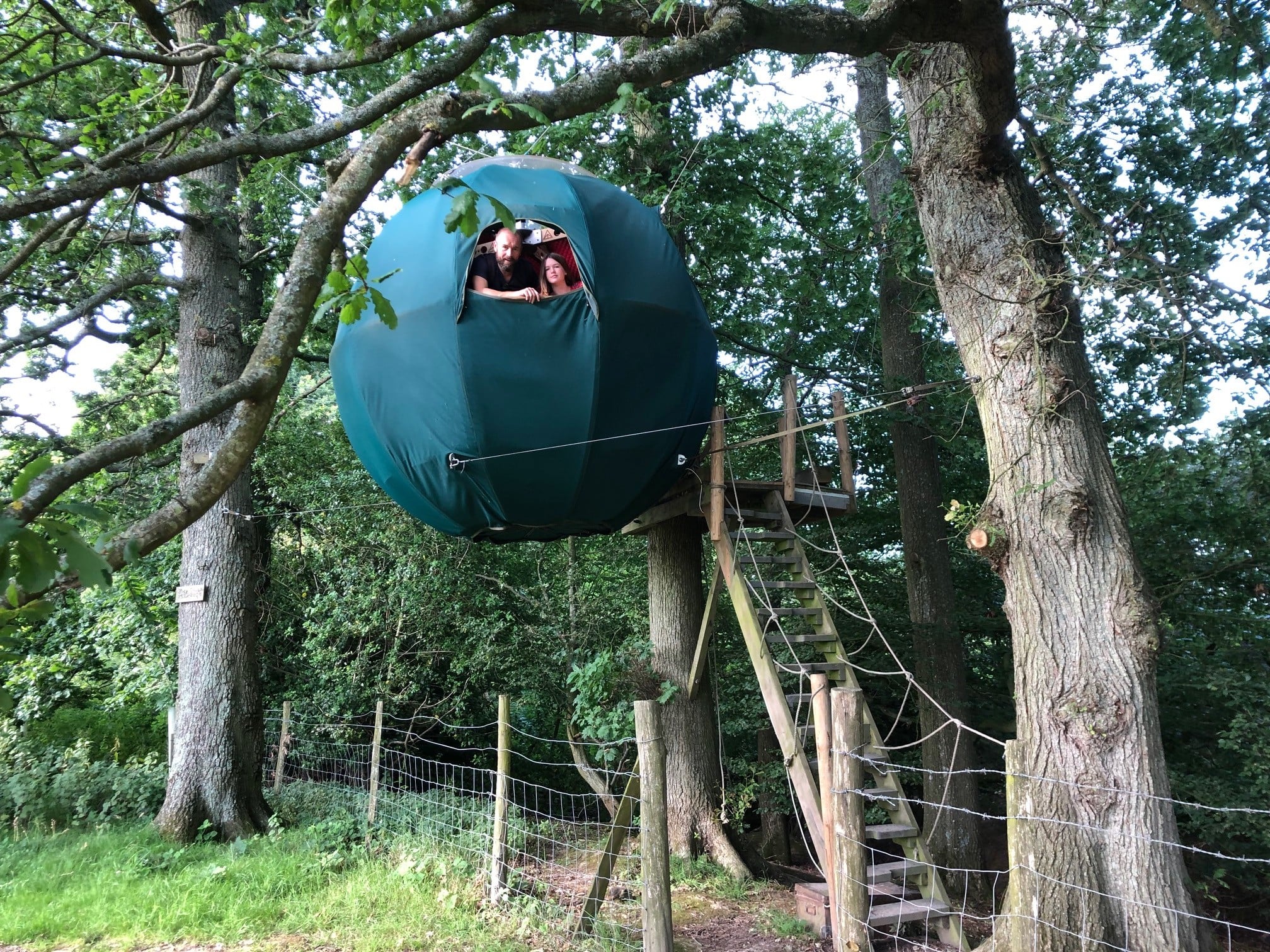 QA Review of THE SECRET CAMPSITE in E. Sussex
by Jess Twitchin, founder of QuirkyAccom.com
Bunny rabbits bounce across a wild grassy meadow with camp corners trimmed into it in a wonderfully non-regimented way. We wheelbarrowed our logs, cooking provisions, sleeping bags and few possessions over the bridge, through the campsite... drawn by a round ball high in a tree. I felt a ripple of excitement at the thought of spending the night there.
At the foot of Tree Tent we took to the wooden stairway keen to see inside. Our suspended nest had been cleverly designed with beds for 3 that unfold like petals, with comfy mattresses, around a central pole. Views from the 'windows' showcased our place amongst the branches.
We had been blessed with a perfect summer's day which spread into a mild evening. We kept the warm glow of the day going around our campfire and enjoying a relaxed supper before an early night, with chatter in the darkness before drifting off to sleep. No one reached for their phone (except to take a couple of snaps). We were together as a family as so rarely seems to happen these days, living in the moment.
Morning brought wonderful birdsong all around our nest. We got up and tramped through the morning dew to the sink and compost loos nearby to freshen up (there are showers a short walk on near reception). An ancient woodland borders the campsite so we set off to explore taking the old railway line out towards the village and then cutting in amongst the towering trees. Lovely to take a walk there before the day had truly begun.
Once back we were ready for a coffee and the owner Tim's friendly face at reception. He showed us the other glamping option on site - The Gridshell, in the orchard - a unique glamping cabin, this one set on the ground. There is space for maximum 6 here on futons and rollmats under heavy sailing canvas - more weather proof and spacious than camping - and you can stand at full height when in the centre.
We were very impressed with The Secret Campsite, and I loved sleeping up high, held securely between 3 mighty trees. It is a cheery haven in nature keeping the hectic world outside.
Why not add some unique activities when there -
SINGING WITH NIGHTINGALES - a special experience.
RAILWAY LAND WILDLIFE TRUST -find out if they have any events on.
SECRET WILDLIFE FESTIVAL - on site festival at The Secret Campsite around the end of June.
WINDOG TOURS - tailormade entertaining and historic guided tours to East Sussex.
Enjoy a lovely lunch at The Jolly Sportsman not far away! And they suggest walking routes around the pub so you can work up an appetite. We did manage to get a bit lost though!
See this link for more ideas locally, and then a little further you have all that Brighton has to offer.